Our commitment to equality and diversity
Blood Cancer UK's mission is to beat blood cancer. We will not succeed in our ambition unless we beat blood cancer for everyone and address inequalities in treatments, experience and outcomes.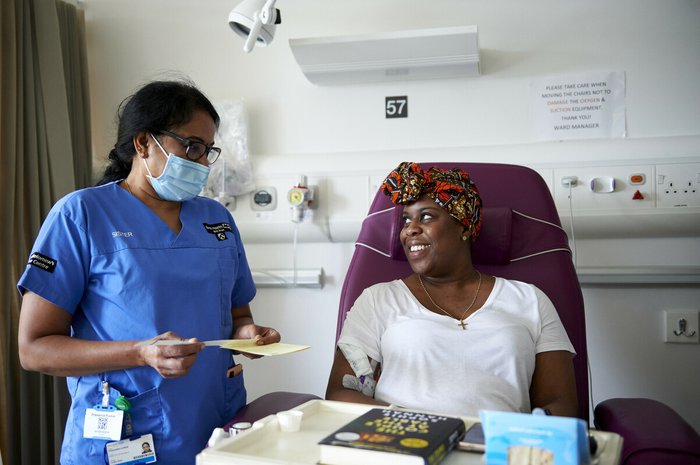 We are tackling inequalities
Blood cancer does not discriminate. It can affect anybody – whatever their age, skin colour or race, social background, disability, sex or sexual orientation. Yet, these factors can also affect a patient's experience of care, and even their clinical outcome.
We are committed to using our voice and influence as an organisation to tackle inequalities, and to actively promoting equality, diversity and inclusivity.
Inclusion starts with us
Inclusion starts from within the organisation. We want to create a welcoming and supportive community for everyone affected by blood cancer and all our staff at Blood Cancer UK, and ensure that what we do, is fully reflective of this.
In 2020, in the wake of the murder of George Floyd and the racial inequalities exposed by Covid-19, we committed to do more to address racial injustice and inequalities in blood cancer, healthcare and society and made a commitment to antiracism. This sits alongside our broader commitment to equality, diversity and inclusion (ED&I), central to our mission of beating blood cancer within a generation.
Our equality, diversity and inclusion strategy
Our strategy relates to all areas of the organisation:
Beating blood cancer for everyone – addressing inequalities in blood cancer through our research investment, our policy influencing and campaigning and ensuring our service provision meets the widest range of needs
Our Blood Cancer UK family – ensuring that our fundraising networks and supporters reflect the diversity of those affected by blood cancer
Becoming an inclusive organisation – ensuring that as an organisation, our team reflects the blood cancer community, and that we create an inclusive culture where everyone can progress and thrive, and has a sense of belonging.
Equality sits at the core of our values
ED&I sit at the core of our values as an organisation and we are committed to continue to integrate ED&I into all we do, whether through research, support and campaigning priorities, ensuring our fundraising and engagement materials and our employees and volunteers better reflect the diversity of the blood cancer community or developing our people to enable them to recognise and address ED&I priorities.
As an organisation we value continuous improvement and know that our work on ED&I will never be complete. We commit to continually hold ourselves to the highest standards of ED&I and challenge ourselves to do better to ensure we are here to support everyone in the blood cancer community regardless of background or identity.