Myeloproliferative neoplasms (MPN)
Myeloproliferative neoplasms are a group of rare conditions that affect the blood. In MPN, your body produces too many of a particular type of blood cell.
There are three main types of MPN:
The type of MPN you have depends on the type of blood cell your body is making too many of. To find out more about a specific type of MPN, choose a type from the list above.
There are around 4,180 cases of MPN in the UK each year.
MPN is classed by the World Health Organisation (WHO) as types of blood cancer. This means your care and treatment follows national cancer guidelines and you should have access to cancer support services.
Although MPN is classed as a cancer, many people with MPN feel quite well and the condition doesn't interfere too much with everyday life.
Often, MPN can remain stable or progress quite slowly.
For more information, go the section about your particular type of MPN: polycythaemia vera (PV), essential thrombocythaemia (ET) or myelofibrosis (MF).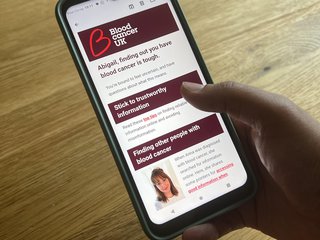 Get a weekly support email from us
We'll send you clear and simple information, practical tips, and advice from other people with blood cancer, to help during the first few weeks and months after diagnosis.
Sign up for blood cancer support by email