Blood cancer: mind and emotions
Ways to look after yourself and get emotional support.
What you need to know
Living with blood cancer is challenging. In the current coronavirus pandemic, things may be especially hard. But remember:
It's normal to go through lots of emotional ups and downs – Having a down day is not going to make your cancer worse.
There are little things you can do to feel better – Being kind to yourself, trying mindfulness and staying as active as possible can all help.
You don't have to go through this alone – We're here for you. Join our online community or contact our Support Services Team for more support.
What can I do?
If you're not feeling great, it might feel overwhelming to think about making changes or finding new ways to cope. But this page is about small, simple things you can do to feel better in your daily life, even if you're taking extra precautions against coronavirus, or shielding because of a local lockdown.
Pick one thing from this page that might help, and give it a try.
Be kind to yourself – You're going through a lot. It's OK to say no to people and put off that Zoom call if you don't feel like it. Take time out for yourself - have a bath, read a book, watch a film.
Keep up or start hobbies you can do at home – Anything you enjoy and which keeps your mind occupied can give you a break, recharge your batteries and help lift your mood. See Paul's story about the different activities he found to help him while he was shielding.
Try to stay active – Physical activity is good for your mental health too. It can help you sleep better, release feel-good hormones and help manage stress, anxiety and depression. Find something you can do at home like using dumbbells, climbing stairs, or an online exercise class. Build up gradually and pace yourself. Read Jane's story about staying fit when you can't go out.
Be creative – Being creative takes you out of your head and into the moment. Try drawing, painting, or listening to music. You don't have to be talented, just find something you enjoy!
Have something to look forward to – It could be something as simple as a video call with a close friend, a virtual pub quiz, a special meal or the delivery of some online shopping.
Start a diary – You can record your goals, things you've achieved, things that have helped you, and how you're feeling. Order your diary and see if it helps.
Relaxation and breathing exercises
Mindfulness meditation can decrease worry or stress, relax you, and help you get a better night's sleep. It can also help reduce anxiety and depression in people with cancer. Anyone can try mindfulness – it's not about clearing your mind and you don't need any special skills to give it a go.
Watch our videos to join Jane, Ann, Mel and Katie, who are all living with blood cancer, in some guided mindfulness meditations. You'll learn some breathing exercises and ways to connect to your body, to help you relax and reduce anxiety.
I've found ways to relax – anything that brings the heart rate down, that calms you: meditation, visualisation, and a lot of mindfulness.

- Donna, 52
Family and friends
Living with blood cancer can also have a big emotional impact on those around you. You might feel pressure to hold it all together and try and support your loved ones. This can be a struggle if you're not feeling great either.
Relieve some of this pressure by directing those close to you to our support for people who know someone with blood cancer. The ideas on communication, support and self-care will help them and may be useful for you as well.
More tools and support
It's OK to ask for help – many people with blood cancer have told us they need more support. Speak to your healthcare team as a starting point.
Research shows getting psychological support including cognitive behavioural therapy (CBT) can be helpful for people with cancer. Ask your GP, or self-refer online on the NHS website in England or through Breathing Space in Scotland.
Janssen-Cilag Ltd has supported Blood Cancer UK with funding for the production of this web page and others within the 'Living well' section. It had no influence over the content.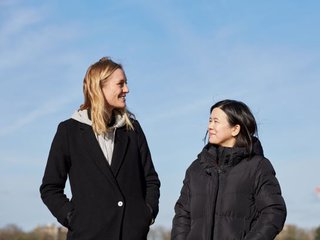 Share your story about living well
Your experience can help others with blood cancer
Tell us your story