Face-to-face fundraising
One of the ways we raise money for vital research funded by Blood Cancer UK is by meeting supporters face-to-face in shops, on the street or at your doorstep.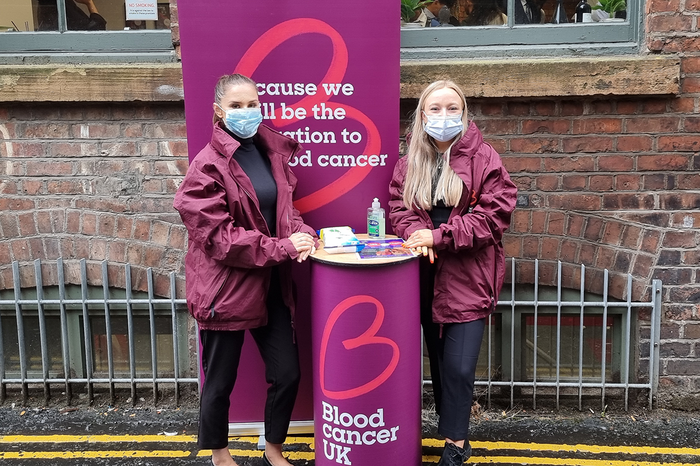 This is a great way to engage with people and find out what they think of us and why they support us. It is also a cost-effective way of us generating reliable income so we can deliver our ambitious plans to beat blood cancer.
Here you can find answers to some common questions our supporters ask about our fundraisers.
If you have a question which isn't answered here or have a concern, you can contact us at [email protected] or on 0808 2080 888 Monday-Friday 9-5pm.
Face-to-face fundraising
Face-to-face fundraising is an effective way of us generating the income we need to beat blood cancer. We ask supporters to sign up to a direct debit, which is a convenient method of donating and ensures we have predictable long-term income we can rely on, which is vital when funding research projects.
Our fundraisers also raise awareness about our inspiring work and how we support everyone affected by blood cancer.
We've taken the decision to carry out this activity in line with Government guidance and have taken the following steps to ensure all necessary precautions are in place to mitigate risk:
Fundraisers are required to pass updated health and safety training which takes guidance from government, IoF & Fundraising Regulator advice.
Contactless sign-up options – supporters will be offered the choice of scanning a QR code, receiving a link via SMS or signing up using our fundraisers' iPads, which will be cleaned before and after every interaction.
Fundraisers are given a daily health check before starting work.
Providing our fundraisers with hand sanitiser, anti-bacterial wipes, gloves and visors/facemasks.
Updating the vulnerability policy to ensure fundraisers are aware of the increased risk for particular groups and also the heightened anxiety of the public around face to face interactions.
You can check the validity of fundraisers in the following ways:
All fundraisers have an ID badge showing the Blood Cancer UK logo, their name and photo, reference number and our registered charity number.
All fundraisers carry Blood Cancer UK materials including a welcome pack, and thank you for listening card with our Supporter Relations number.
Fundraisers will also be wearing branded Blood Cancer UK clothing such as jackets in colder weather and t-shirts when it is warmer.
All donations are given through direct debit and our fundraisers will not ask for, and cannot accept cash.
All fundraisers will be using tablets and will never ask a member of the public to write any details on a paper form.

If you have any concerns, you can check the identification ID of the fundraiser by calling us on on 0808 2080 888 or Appco on 0800 031 9811.
We work with specialist agencies that help us co-ordinate and carry out our campaigns. The agency we currently work with is Appco UK Ltd.
We are committed to maintaining high standards, and all our fundraisers receive training from a member of the Blood Cancer UK team. We also provide regular refresher training on a regular basis, and mystery shop them to ensure they are following our agreed standards.
The fundraisers are thoroughly trained on potential vulnerability and what to do if they believe they are speaking to someone who may be in vulnerable circumstances. We work closely with fundraisers to make sure they are confident in knowing what to do if someone discloses a form of vulnerability. This is closely monitored both by us and the agency.
You need to be over the age of 18.
Our face-to-face fundraisers will typically work between 12pm and 9pm, Monday to Saturday, as that's when people are most likely to be home. Fundraisers based on private sites (such as shopping centres) will work hours in line with the opening times of the shopping centre/site.
No. Our fundraisers are not allowed to take cash from you. They're only permitted to ask for regular donations through a direct debit. They also can't take one-off donations.

There is now an option to sign up via contactless methods either using a QR code or SMS. This will take you to a website where you can enter direct debit details and confirm the signup.
The Fundraising Regulator is the independent regulator of charitable fundraising set up in the wake of a cross party review in 2015. All face-to-face fundraising is regulated by the Fundraising Regulator and its corresponding handbooks.
The Fundraising Regulator is responsible for ensuring organisations are following the Fundraising code of Practice, and works with charities, professional fundraising organisations and local authorities to minimise complaints and ensure high standards of fundraising are adhered to.
Find out more about the Fundraising Regulator.
Where are our fundraisers operating?
Stay up-to-date with where our fundraisers are this week.