Accessing information when you're first diagnosed
Vij is living with polycythaemia vera (PV), a chronic blood cancer. He talks about the value of reading up on your condition.
The way I got my diagnosis was unusual. As I understand it, you'd normally have a face-to-face meeting with a consultant and a clinical nurse specialist to answer your questions and pick up the pieces. But this was September 2020 in the middle of the coronavirus pandemic.
I got a phone call telling me I had something called polycythaemia vera.
He said he would send me information in the post, but he knew what I was going to do: google it.
So he said get the name down, do your own research and come back with questions.
The trouble with Google
Polycythaemia vera (PV for short) is very rare and there's not a huge amount of information about it. The first thing Google came up with was some statistics about life expectancy that were really quite scary. Not a great start.
Luckily, I didn't take any of it too seriously because I remembered the doctor saying that although PV is a form of cancer, it's manageable. So I didn't panic, but if I hadn't processed that vital piece of information from the doctor, I might have felt worse.
Of course, the best thing is to get information from places you know are trustworthy. It was very reassuring to find online information from Blood Cancer UK and other reputable charities.
If you do use Google
It can be just too tempting to google, even if you're scared of what you might read. Here are my tips on what to remember if you do search online for information on your condition:
Statistics are always general. They're not about you. Your medical team can give you much more accurate information about your own situation.
Think about who's providing the information. Do you know who they are? Have they been recommended to you? What's their aim in publishing information?
Remember that what comes up first on Google is usually the most heavily marketed website, not necessarily the best.
Beware of the snippets at the top of the page when you search – they give very brief information that can be misleading out of context.
Other places to find information
The internet isn't the only place to find information. There are lots of free printed booklets you can order or pick up at your hospital. Helplines like Blood Cancer UK's Support Service can also point you to good quality information about blood cancer and how it might affect your life. And they'll talk things through if you read something that worries or confuses you.
Something I've used myself is online forums. People on these forums can't give you medical advice, but they can give you the benefit of their experience, which is especially helpful when you're first diagnosed. The Blood Cancer UK online community forum was and is somewhere I go when I need people who understand how I'm feeling, and who'll cheer me up if I'm having a bad day! Sometimes after I've posted, and it's been acknowledged, it's like a supportive hug to get me through.
The power of information
When I was diagnosed, I had loads of questions, I just didn't know what they were yet. The advantage of researching my condition was that it helped me put together a list of sensible questions, which made me feel more confident about talking to my doctor.
Having reliable information to hand can feel like you've got someone knowledgeable with you.
I also find doctors and nurses like questions – it gives them an idea what you do and don't know and reminds them there's something they haven't explained yet.
So my advice would be, don't be afraid to find out more about your type of blood cancer. But look for trustworthy sources and if in doubt, ask your medical team!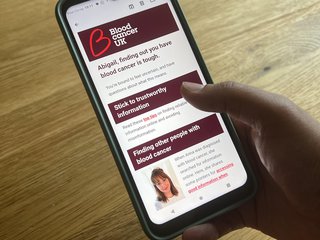 Get a weekly support email from us
We'll send you clear and simple information, practical tips, and advice from other people with blood cancer, to help during the first few weeks and months after diagnosis.
Sign up for blood cancer support by email