Regaining a sense of control
Marie had many ups and downs during her treatment for Acute Myeloid Leukaemia (AML). She shares the reality of this rollercoaster, and how she found ways to feel more in control of her life, despite her treatment plan changing along the way.
At first, I thought things were going to be okay
Although my diagnosis of AML came as a shock, during the first round of chemo I felt quite positive. In hospital, I tried to stay strong, and I was convinced it was working. I was doing a lot of positive affirmations and I felt confident in the treatment plan my medical team had outlined for me. I was thinking "right, I'm having three rounds of chemotherapy and then I'll be fine, and I can function again".
Facing the challenges that treatment brought
But after my first round of chemo, I had another bone marrow biopsy, and I was told the chemotherapy hadn't been effective. I was so scared. My treatment plan had to completely change, and they started talking about the need for a transplant.
I had felt so sure of my coping methods until now, but this made me stop and realise, my god, this is serious. I was very frightened about my transplant and didn't know where to turn to find others going through the same thing as me. Luckily now there are places like the Blood Cancer UK forum.
Later, I had to adapt to a whole new plan yet again. During my second round of chemo, my consultant came in and said I've got some good news and some bad news. Fortunately, the chemo had helped, but the bad news was my brothers weren't a transplant match and there were no matches on the international registry either. I ended up having a double umbilical cord transplant instead, which I'd not really heard of. Thankfully, it was successful, and I am now in remission.
I had so many ups and downs throughout my treatment, and a lot of the time it felt out of my control. But, dealing with so much uncertainty made me realise there were other ways in which I could feel more in control of how I was coping.
Taking back some control
I classed myself as pretty fit and healthy before I got AML, so I wanted to stay hopeful that I'd be this way again. Staying positive was something I could control, but I had to accept there were lots of things I couldn't control.
I wanted to know the whole plan upfront, but it just doesn't work like that. Even at the beginning, my plan moved in a whole new direction. As a patient, you can't know the endpoint, you just have to put your trust in your medical team and focus on what you can control.
The way I felt more in control was to focus on the little things that were in my power to change. This could be really simple things like what I could eat and drink to assist my treatment, and how I could help my body cope with the treatment. I took my yoga mat into hospital and did some gentle yoga when I felt up to it. I put photos of happy memories on the walls of my hospital room, and I listened to music, podcasts and meditations that made me feel good.
I couldn't control what treatment I was having or how I would respond to it, but I could control all these little things, and this was important to me, as otherwise I would just feel completely lost. All these actions added up made me feel more sure of how I was coping within myself, as I knew I was doing what I could to help manage what I was going through.
During my treatment one thing that helped me so much with the uncertainty was thinking, "well okay, I'm not where I want to be today, but I'm one step closer than yesterday and if I keep recognising this, I'll be alright."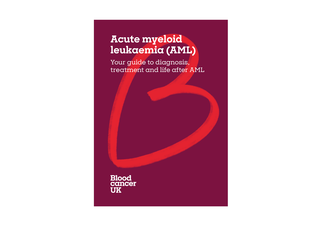 Marie helped create our guide to AML
We worked with a group of people with AML to create this booklet, which is all about key things you need to know, and how you can help yourself.
Download or order now
You're on your own path
I also felt more empowered by realising I was on my own personal journey with AML. I recognised that everyone going through this is different, that every literal body going through this will respond in a different way, and our healing journeys are all unique. I could be having the same treatment as the patient next to me and yet respond in an entirely different way.
Statistics only show us one side of the reality and I didn't find them helpful to look at. I kept telling myself in my head "I am not a statistic" to remind myself I was on my unique cancer journey. Numbers and percentages weren't helpful to me and made me feel less empowered in my own experiences. I blocked these figures out and I was careful about what I searched on Google because there's a lot of non-credible information out there. I stuck to information that I knew I could trust, and I trusted my own body and my own journey through this.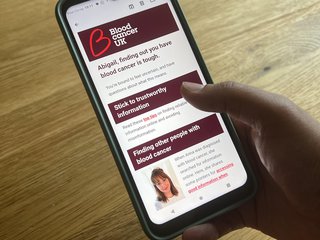 Get a weekly support email from us
We'll send you clear and simple information, practical tips, and advice from other people with blood cancer, to help during the first few weeks and months after diagnosis.
Sign up for blood cancer support by email