Having blood cancer as a young person
Bav was a teenager when she was diagnosed with acute myeloid leukaemia (AML). Years later, she reflects on what it was like to go through cancer at a young age.
A sudden diagnosis
I was doing my A-Level exams when I started to get symptoms. I didn't realise it was anything other than a normal cough or cold. I was stressed from the exams and assumed I must have a weak immune system causing my ongoing symptoms. I went to the GP three times before they suspected something more serious was going on. By this point, I was very pale and weak, I wasn't right at all.
I had blood tests and suddenly the hospital staff had put me in a room with my family and told me I had leukaemia. I didn't know what that was, and I'd never heard of it before. I suspected it was something serious because of the way they told me. They wanted my family around me for support and the consultant had come to tell us the news in private. At that point, all I registered was that something serious was going on.
Looking back, I had tried to be strong and not let the symptoms stop me from living my life. When I was young, I had always brushed off illness and carried on as much as I could. On reflection, I can see I must have been very unwell at this point –- I had even passed out right before my diagnosis!
Changing plans
After my diagnosis, I was focused on how my plans had changed. I so wanted to enjoy the summer after my exams, but now all I could think about was what would happen next with the AML. There was so much unknown, and I didn't know what to expect.
I had planned to go into school to get my exam results, but I missed out on that experience because of a complication I had from the treatment. I got emotional about this because I knew everyone else would be going. They'd all be so excited to see each other and finally open their results and I couldn't share any of that experience. In the end, my aunt collected them and thankfully I had got into my chosen university. I was happy with my results, but I did feel I had missed out on that day.
Instead, my summer was spent in hospital on chemotherapy. It was hard as I couldn't see my friends because of the infection risk but what made it especially hard, was that they were all moving on with their lives, enjoying the holidays and then heading off to uni.
Feeling different to others
When I started chemo, my uncle came with me and supported me through it. It made those days much less scary. One time though, he couldn't be there. I was by myself, I felt scared, and without any distractions, I realised just how much of an age gap there was between me and the other patients getting treatment. I felt so different and like I didn't fit in. Everyone around me was a lot older and throughout treatment it took me a while to find someone like me – another young Indian girl – and when I did, it made me feel so much less alone.
When I went to university the following year, after my treatment had finished and I was in remission, I felt different again. I was older than everyone else there because the AML had delayed me going, and I felt like I was at a different stage of my life to the other students. I had experienced something major in my life, and I wasn't the same mentally, emotionally, or physically as a result. I think my priorities were different to other students. Whilst they partied, I was studying hard, and it felt at times like no one understood me.
But going to university had been my driving force while I was on treatment. Even though the treatment delayed me going for a year, I knew while I was in hospital what I wanted to be doing and where I wanted to be. Having these goals in mind helped me see past the treatment and helped me deal with any struggles that arose along the way.
I can see now that in many ways, I had grown up differently because of AML. I didn't have a typical young person's experiences, or at least not in the same way as others my age. I've come to terms with that now and I'm content with where I am in my life and all the things I've been able to do since my treatment.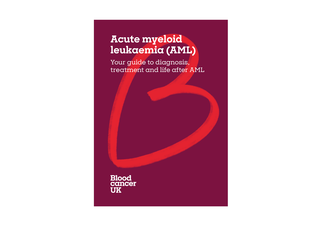 Bav helped create our guide to AML
Bac and other people with AML worked with us to develop this guide to AML, which is full of key facts and tips from other people who've been through AML.
Download or order now
Accepting your experiences
When I was younger, I feel I didn't really know who I was. Figuring that out and accepting the AML as part of me has made me so much more confident. Now I know this is who I am, this is what I've been through and I'm not afraid to tell people about it.
For anyone going through it now, find support from other young people. There are so many accessible and helpful resources available now that didn't exist before.
You don't need to feel alone. There are others in similar situations, who've been through it or are still going through it. Reaching out and talking to others can be reassuring.
Don't be afraid to be open about your experiences and be honest. You're not alone and having someone listen to you is so helpful. Having hope, optimism and support is important, and even though chemo can be so tough, don't give up and stay hopeful.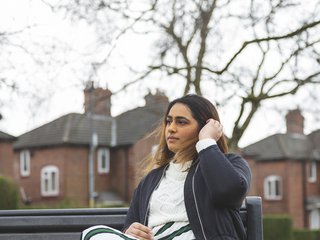 Information for young adults
Young adults with blood cancer share tips and advice on side effects, friendships, work, study and lots more.
Blood cancer and young adults