Paul's story
How I've adjusted to life with leukaemia
Paul, 52, was diagnosed with chronic myeloid leukaemia (CML) at the end of 2013. In 2022, Paul is still doing well and is now a Blood Cancer UK ambassador.
This sounds very melodramatic, but it's a strange thing to live with something inside you that's trying to kill you. Many people with blood cancer have a treatment plan, after which treatment stops or changes. Things are different with chronic myeloid leukaemia. The treatment is a daily chemotherapy tablet that I'll have to take for the rest of my life. It's not a cure – it's a control.
Managing the emotional impact
I think that all blood cancers can have an emotional impact – but the never-ending nature of mine manifested itself in three clear phases.
The first phase lasted three or four months after my diagnosis – hectic days of bone marrow biopsies and hospital appointments. During this time, my emotions lurched all over the place. Ranging from euphoric determination to beat this one moment, to utter despair the next.
The second phase lasted about a year. I was well and truly in the 'battle rhythm' of treatment. I went through periods of calm, but every so often something cropped up – like a new side effect – which threw me into a spin.
I have a friend who used to be a pilot. He described long-haul flights as eight hours of boredom punctuated by stark moments of terror. That's kind of how phase two felt for me.
Phase three is where I am now. I'm nearly six years into my cancer journey and have become quite expert in my condition and the effects of my treatment. The ups and downs are less dramatic and undulate more. However, they last longer and like the Grand Old Duke of York – when I'm up, I'm up – and when I'm down, I'm down.
I fear that the treatment will stop working. With one weapon in the armoury gone, what would I have left to fight this?
Coping with fear
Fear plays a big part in all of this: fear of dying, fear of treatment, fear of no control. When I have a new sensation in my body, or feel rough or ill, three questions instantly spring to mind:
Is it the leukaemia?
Is it a side effect of the treatment?
Is it something new I need to worry about?
Social media groups were particularly valuable when I was newly diagnosed. They provided advice and guidance on what to expect in terms of the condition and treatment options.
I also find Blood Cancer UK's comprehensive, clinically approved information helpful. I can find out where to get further help and support, and what treatments I could have next, if needed.
I would also say to anyone with blood cancer – if you're struggling with your mental health, talk to your GP. They will help you. I am now on the waiting list for counselling (which has worked for me before). I think you should treat mental health issues just the same as physical ones – if you ignore them, they will get worse.
Dealing with guilt
This manifests in a number of ways. Closest to home, it's guilt about the impact of the diagnosis on those I love. So much of the focus is on me – the patient always at the centre of attention – but blood cancer affects everyone around me.
Then there's survivors' guilt. Why me? Why did I get another chance at life when so many others didn't have that opportunity? Logically this is a nonsense. I didn't choose for this genetic mutation to occur. But it's a common feeling and one that is very difficult for people who haven't experienced a cancer diagnosis to understand.
Before the coronavirus pandemic, one thing that helped was setting myself physical challenges to raise awareness of blood cancer, and awareness and funds for the charity. I started with a 10k run, and I went on to complete 50- and 100-mile bike rides and a triathalon. I also cycled from London to Paris twice, from Amsterdam to Yorkshire and coast-to-coast across the UK. Each of these challenges helped me maintain my physical fitness and provided a great mental distraction.
But it's not all been that dramatic! I find that even gentle exercise at home can help my physical and mental health.
Coping with mental exhaustion
Knowing that this condition will always be with me does put a strain on my mental health. The daily physical battle with the side effects of my therapy takes a toll, and I long for a day where I can feel 'normal' again.
Being involved with Blood Cancer UK as an ambassador has helped lift my depression – new friends and new experiences come thick and fast but, importantly, I have purpose and a sense of control.
I regularly speak about my experiences. It's something I look forward to and something I take seriously. I never saw myself as a confident person, but speaking about this comes easily to me now. Probably because I don't have to make it up – it's just an account of my life. I'm quite a confident person now.
None of us wants to be in this blood cancer 'club'. But for me, although I may have blood cancer, the silver linings outshine the clouds.
Janssen-Cilag Ltd has supported Blood Cancer UK with funding for the production of this web page and others within the 'Living well' section. It had no influence over the content.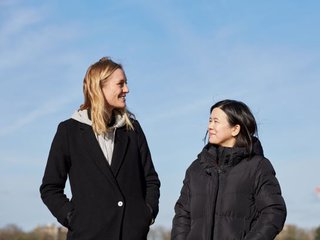 Share your story about living well
Your experience can help others with blood cancer
Tell us your story