Treatment that never stops
Janet is married to one of our amazing ambassadors, Paul, who was diagnosed with chronic myeloid leukaemia (CML) eight years ago. She talks about supporting Paul through ongoing treatment and how it affects the family.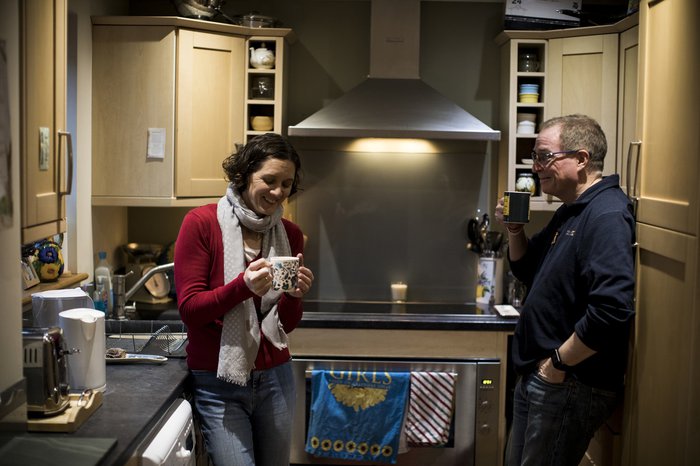 The blood cancer my husband Paul has is a chronic leukaemia called CML. It's slow growing and it can be treated, but at the moment it can't be cured.
Paul takes a drug called imatinib, which is working well for him. The aim is to hold the CML at the chronic stage so it doesn't progress. It would be good to get rid of it completely, but this is the next best thing.
Imatinib is a tablet he takes once a day. Thank goodness we have it, because it didn't exist 20 years ago. Paul keeps the blister packs for all his pills because for him, they represent every extra day he's been given.
The effects of treatment
It's hard to know what's a side effect of imatinib and what's a symptom of the cancer, but Paul can get leg cramps, often at night, which can be agony. He sometimes has night sweats or itchy, sensitive skin, like a budgie is walking across his back. He gets very tired and may need a nap in the middle of the day. These side effects come and go, and he might not have them for a period of time.
Paul was diagnosed at 45, an age when you should be fit and healthy. So the mental side has been hard for him too. There's no end point with this cancer – it's just on and on and on and he finds that very hard. He has three-monthly blood tests and he does get edgy around that time, because that's when we find out if the drug's still working.
It's hard for us as a family too. There's no goal, no remission in sight, no end to the treatment.
The boys were 4 and 6 when Paul was diagnosed, so our younger son doesn't really remember a time when his dad didn't have leukaemia. They're used to it, but they're not complacent and they've worried about him during the covid pandemic – we all have because he is clinically extremely vulnerable.
I try not to dwell on the CML. It comes and goes in your mind and you don't think about it all the time. When you're not the one going through it, you can sometimes feel quite helpless. For instance, when Paul gets piercing cramps at night he doesn't want me to fuss or try and help him. He just needs to ride it out. When he's tired, I try to keep out of the way, give him that space to rest. I wish there was something more I could do but I know that there isn't. Except just to be there.
Sometimes Paul wants to talk about it, sometimes he doesn't want cancer uppermost in his mind. I have to read the signs.
Taking care of yourself
Inevitably you do have dips about things, but I have good friends I can talk to. I play sport and music, and of course the kids are a distraction too.
In the beginning, I probably didn't give nearly as much thought as I should have to my mental health. At the hospital no one asked me if I was OK, if I needed support. It can be quite hard to find emotional support for yourself.
Six weeks after Paul was diagnosed, I took to my bed with flu. I'd held out for a while and then my body just said "stop". I put that down to the stress. Paul got ill quite quickly – it came out of nowhere. So it's important to find a way to deal with stress and that'll be different for different people.
My advice to others
Find someone to talk to: In the early days, what I needed was to talk about what was happening – either professional or peer support would have helped. I didn't know about the Blood Cancer UK Support Service or the online community forum back then, but if someone had said to me eight years ago, "Look, why don't you call this number?" I probably would have done.
Make sure you're well informed: I got very little information from the hospital, but I did want to know what the treatment and prognosis were and what it's like living with CML, especially as Paul was too ill to take it in. So I'd recommend asking the hospital for information or going to NHS or charity websites.
Take it a day at the time: Initially you can't look very far ahead because you need to get over that first hurdle of starting treatment and getting your loved one a bit better. And that's OK.
Accept offers of help: If someone offers to cook meals for you, say "Yes please!" My mum told me to always accept help, because you'll repay it later down the line. I'm not always very good at accepting help but I feel better when I think I'll eventually be able to do someone else a favour.
Be kind to yourself: You'll be a lot more use to your partner if you're not exhausted. Go to bed early, have a bath or a glass of wine – do whatever it is you need to. It's so easy to put yourself last as a mum and a wife, but it is important to take care of yourself too.
Talk to people, keep heart and stay positive: Treatment options are getting better all the time.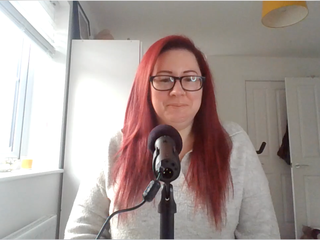 Blood Cancer Heart to Heart podcast for family and friends
"I thought this is it. I've driven here as your girlfriend, and I've left as a doctor, a pharmacist, a nurse, a carer - everything all rolled into one."
Listen now