Sickness and vomiting
Some blood cancers and treatments for blood cancer can make you feel sick (nausea) and, sometimes, cause you to be sick (vomit).
What is sickness and vomiting?
Feeling sick (also called nausea) is an unpleasant feeling in the back of your throat or in your stomach that may or may not lead to actually being sick. Being sick (vomiting) is when your stomach muscles tense up and force the contents of your stomach out through your mouth. Usually, it's caused by your body trying to get rid of something that shouldn't be there.
Feeling sick and vomiting is controlled by part of the brain called the vomiting centre. Your vomiting centre is triggered if it receives signals from:
another part of the brain
the stomach
the inner ear, in response to body movements or dizziness (vertigo).
It can also be triggered by senses such as taste and smell, and emotions such as fear and anxiety.
Feeling and being sick is very common in people with cancer. About half of people with cancer are affected, either because of the cancer itself, or because of the treatment.
The impact of sickness and vomiting
Sickness and vomiting can make everyday life difficult to cope with and can cause:
loss of interest in food (poor appetite)
weight and muscle loss
changes to the balance of water, salts and sugar in your body (dehydration)
low mood
feeling tired and weak.
But there are anti-sickness treatments which can help you manage sickness and lessen its effects significantly.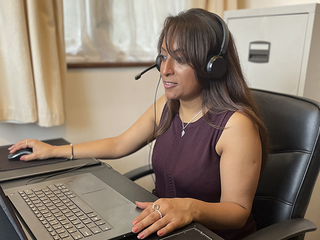 Worried about anything or have questions?
If you need someone to talk to, please don't hesitate to contact our Support Service by phone or email.
Support for you