I've just been told I have blood cancer
Just diagnosed: everyday life
You may be worried about what a blood cancer diagnosis means for your job or your study plans. Here's some general guidance on working, studying and where to get financial support.
Talking to your employer about your diagnosis
You don't have to tell your employer about your diagnosis. But cancer is classed as a disability under UK equality law, so if you do tell your employer, they mustn't discriminate against you. They also have to consider "reasonable adjustments" to help you carry on working.
So if you tell your manager or HR department about your diagnosis, you can discuss things like changes to your working hours, working from home, and having time off for medical appointments. And if you need extended time off, you'll want to discuss how your employer can support your return to work.
Whether you can carry on working will depend on what sort of work you do and how the blood cancer and its treatment affect you. Your healthcare team will be able to advise you about how things might change for you physically and mentally, and how long your treatment is likely to last.
Another thing to consider is the coronavirus pandemic. As someone with blood cancer, you may be considered "clinically extremely vulnerable" and more likely to get seriously ill from the virus.
Even if you've had two vaccinations, you may still need to take extra precautions if you go out to work. This is because we don't yet know how effective the vaccine is for people with blood cancer.
We have up-to-date information about working if you're clinically extremely vulnerable on our page about blood cancer, money and work.
We also have a downloadable fact sheet for employers which you can share with your employer or colleagues. This explains how blood cancer and the coronavirus pandemic affect you and tells you what your rights are.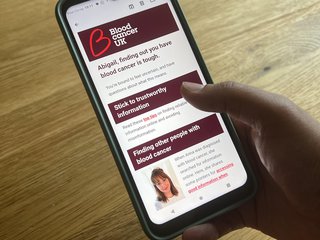 Get a weekly support email from us
We'll send you clear and simple information, practical tips, and advice from other people with blood cancer, to help during the first few weeks and months after diagnosis.
Sign up for blood cancer support by email
Financial support
Hospitals sometimes have social workers or welfare rights advisers who can advise you on any benefits you're able to claim. This might be especially useful if you're on a low income or are unemployed.
You may be able to apply for support with travelling to medical appointments. And as someone with cancer, you should qualify for free prescriptions.
Read our information on blood cancer, money and work. This has the latest information about financial support if you can't work during the coronavirus pandemic. Citizens Advice and Macmillan are also good sources of information.
If you are worried about how you will manage financially, contact our Support Service.
Carrying on with your studies
If you're a student, speak to your healthcare team about your treatment plan, and whether they think you will be able to continue studying. With this information, you can talk to your college or university about taking a break, or getting extra support such as more time for assignments. Cancer is classed as a disability under UK equality law, so contact the disability service at your university or college as soon as you can to get the help you need.
We have more information on study, university and work for young adults aged 16 to 25.