Myelodysplastic syndromes (MDS) treatment and side effects
Myelodysplastic syndromes (MDS) treatment planning
If you've been diagnosed with MDS, your doctor will talk to you about your treatment options and make a treatment plan with you.
The treatment plan that's right for you will depend on:
the type of MDS you have
your wishes
your general fitness, including any other health conditions you have
your MDS risk group
what treatments are available, how well they work and any risks or side effects.
Your treatment may include one or more of the following:
Watch and wait – Not everyone with MDS needs active treatment, as some people do not have any symptoms. If you're not starting treatment, you'll have regular check-ups which is often referred to as "watch and wait" or "active monitoring".
Supportive care – This aims to control the symptoms of MDS.
Non-intensive treatment – This tries to slow down the progression of MDS and improve your blood counts.
Intensive treatment – this gives the best chance of getting rid of MDS completely, but means having strong treatment that can cause lots of side effects so isn't right for everyone. It includes intensive chemotherapy and stem cell transplants.
Clinical trials – some people have treatment as part of a clinical trial.
Your hospital team
Your treatment and care will come from a team of doctors, nurses and other hospital professionals that specialise in blood cancer. This is called a multi-disciplinary team (MDT). You might also have check-ups with your GP.
Your MDT will meet regularly to discuss how your care is going. Your doctor or nurse will update you on what's been discussed after the MDT meetings.
Your main contacts in the MDT are likely to be:
Your hospital doctor or consultant – this is usually a specialist in conditions affecting the blood, called a haematologist
Your clinical nurse specialist – you should be given the details of clinical nurse specialist involved in your care. They are a key point of contact who you can go to with any worries or questions.
If you're having a stem cell transplant or want to take part in a clinical trial, you might also be seen at a different hospital that specialises in this treatment.
We have more information about blood cancer treatment planning, covering things like MDTs and making decisions about your treatment.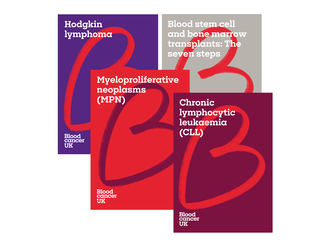 Order or download our free blood cancer information
Find out more about specific types of blood cancer, as well as symptoms, treatments and side effects.
Order or download information
Getting a second opinion from an MDS specialist
As MDS is rare, not all hospitals will have a doctor who specialises in it.
Guidelines for treating MDS say that all patients should have their case discussed with an MDS specialist. You have the right to ask your doctor if they've done this.
If you want to, you can ask for a referral to an MDS specialist for a second opinion. Your current hospital doctor or GP will be able to arrange this for you. The charity MDS UK Patient Support has a list of MDS specialists.
If you get a second opinion, you will usually still have treatment and check-ups at your local hospital. Your local hospital team should work with the MDS specialist to make sure you get the right treatment. This is called shared care.
Questions to ask your treatment team
Here are some questions to ask about treatment, to help you understand more about it:
What treatment do you recommend and why?
What will it involve and how long will it take?
What is the aim of the treatment?
What side effects should I expect from this treatment?
If I don't want this treatment, what are my other options?
Who do I contact if I think of more questions later?
Are you an MDS specialist, or have you discussed my treatment with one?
Key things to know about treatment
A few key things to remember:
You should be given a named key contact, usually a clinical nurse specialist (CNS), and a phone number or email in case you have any questions or worries. If you don't know yours, ask your hospital team.
Your doctor and the rest of your hospital team are there to answer your questions. Don't be afraid to ask them whatever you want to know. It's their job to make sure you understand what's happening.
You can contact our Support Service for help preparing for appointments or talking to your hospital team – this is something we talk to people about a lot.