Save Our Shielders
We want the 9,000 people with blood cancer that have been shielding, who are unable to return to work, to be financially protected.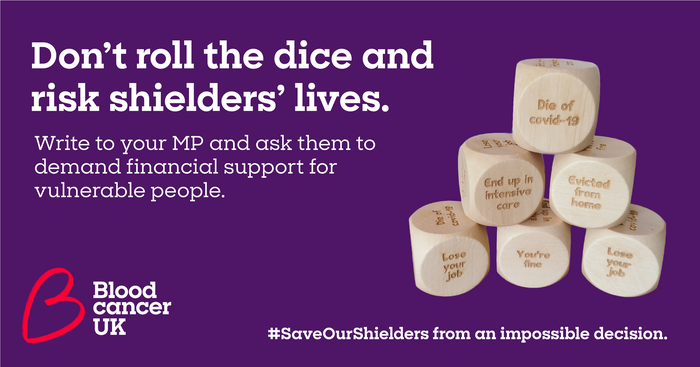 'My employer was reluctant to give me sick pay for 12 weeks, so receiving a shielding letter was a lifeline for me. It's meant that I can protect myself from COVID-19. If shielding ends, I'll have to choose between going back to work and risking my health or staying at home and potentially facing unemployment.' – Anna, who has AML
Over the last few months the shielding service has given support to tens of thousands of people with blood cancer who can't work from home. But this support stopped on 31st July, despite it now being clear that blood cancer increases the risk from coronavirus by more than almost any other condition.
Those who can't work from home now face the impossible choice between protecting their health and keeping their jobs.
This can't be allowed to happen.
That's why we're calling on Chancellor Rishi Sunak to Save Our Shielders, by giving people with blood cancer whose doctor has said they should continue shielding and/or their workplace cannot be made COVID-safe 80% of their salary. This will mean they can protect themselves until the risk from the virus has passed.
Tell us about your experience
If you want to tell us more about how you're feeling about changes to shielding, please contact us at [email protected].