Clinical trials give a feeling of hope for those living with blood cancer
7th Sep 2023
Rachel contacted the Clinical Trials Support Service having benefitted in the past from a treatment which had recently gone through clinical trials. She wanted information about clinical trials she could potentially take part in and contribute to new research herself. Here she shares her story with us.
Rachel writes: In 2012 I was diagnosed with blood cancer 'out of the blue'. During the first ten years of my myeloma journey, I benefited from an initial treatment that had just come off trial, a second-line treatment that was in a two-year window of availability while NICE collected more data about its efficacy and from two autologous stem cell transplants.
Finding the Clinical Trials Support Service
When I started relapsing for the second time in 2022, I posted a question on the Blood Cancer UK Forum asking about third line treatments and as a result of this, I heard about the Clinical Trials Support Service (CTSS).
Alice, one of the Blood Cancer UK Support Services Officers, provided me with the following link, which gives a clear explanation of what to expect from the CTSS and an understanding of how this support sits within the context of your own treating team.
I was impressed with how personalised the service was, including a conversation with the trials nurse over Zoom, and with the quality of the support that I received.
Being informed about trials
Although I became very motivated to take part in a clinical trial as a result of this enquiry, it transpired that I did not meet the inclusion criteria for any of the trials within my chosen radius.
Each trial specifies what treatments you must be refractory to or must not have had yet. I was excited by the sound of the studies looking at bi-specific antibodies and also a drug called Iberdomide, in particular, and was disappointed that I wasn't the right fit for what the protocols required. My myeloma had relapsed with attitude and I needed to start NHS third line treatment instead.
I now understand that clinical trials may be useful at any stage of treatment. I'd recommend getting in touch with the CTSS without hesitation.
What I've learned
I'm so glad that I took the time to become more informed about clinical trials through the CTSS and I feel optimistic to think that when I become refractory to my current treatment, a clinical trial might be a possibility for me in the future. It would be nice to contribute to scientific advance in this small way as well as maybe benefiting myself from newer drugs that are not yet generally available.
The most revealing thing that I learnt from the service is that there are different phases (from 1-3) in the trial of each new drug as the knowledge builds and patient safety is paramount in all phases. I wonder why I left it so long to find out about clinical trials, as I now understand they may be useful at any stage of treatment. I would recommend getting in touch with the CTSS without hesitation.
And at the very minimum, acquiring greater knowledge of these works of discovery gave me a feeling of hope for the future for all of us in the blood cancer community.
We're here to support you. If like Rachel, you'd like to find out more about clinical trials which may be available for you, please get in touch with us.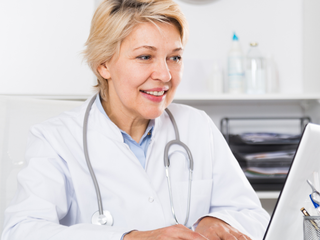 Contact our Clinical Trials Support Service
Get personalised support to understand which clinical trials are available - whether you're a patient, carer or healthcare professional.
Clinical Trials Support Service