Giving back to the community
1st Dec 2020
A year ago, Sunny was in a critical condition. With a positive frame of mind to help him recover, he's been using his new lease of and genuine appreciation of life to help vulnerable people in the community throughout the pandemic.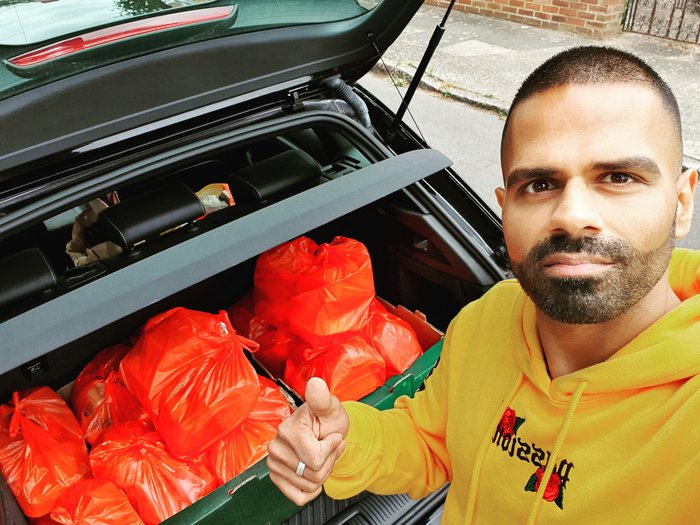 Last year on my birthday, I was diagnosed with stage four non-Hodgkin lymphoma. I was in hospital for over six months before being fortunate enough to go home to my family. My recovery has been slow and excruciatingly difficult at times, having undergone the most intense regime of chemotherapy treatment. The whole ordeal was not just physically, but also mentally very tough for anyone to have to go through.
However, by remaining positive, I have managed to battle the side effects and the trauma of such a horrible experience.
With a new lease of and genuine appreciation of life, I wanted to cherish the opportunity to give something back to the community and help others. The NHS staff, and nurses in particular, gave me exceptional care. I received multiple blood and plasma donations, particularly whilst I remained undiagnosed – which saved my life.
So, one of the first things I did was reach out to NHS Blood Donation to help them promote blood donation amongst the South Asian male community in the UK. I am also a Campaigns Ambassador for Cancer Research UK and have fundraised for Macmillan.
Back in January...
I began volunteering with a local charity. This was before the pandemic became an unfortunate reality.
I volunteered seven days a week to deliver hot meals and basic essentials to the elderly and other vulnerable people.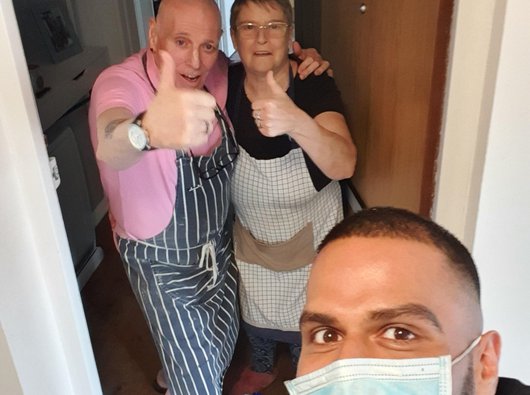 The irony I guess, is that in early April, I myself was advised by the Government to immediately shield, as I am classed as clinically extremely vulnerable. I was devastated that I might not be able to continue helping people in need. After consulting with my doctor, it was agreed that I would only leave my home to continue volunteering.
From personal experience, the challenges for people shielding and their families have been immense.
I knew that there would be hundreds of people in our community who would struggle to put a plate of food on the table, for themselves and/or their families.
I decided I had to help, and on the first morning of lockdown, I reached out to my local charity. That very day, I started delivering meals to residents of the Hounslow borough, who were unable to leave their homes. Over time, and as my list grew, I noticed that people living alone, in particular, were feeling the effects of isolation.
For some people, I was the only smiling face they saw.
This made me do my volunteering with great honour and dedication. There was certainly a feeling of being relied on and I built a strong rapport with many of the residents who we were helping. Sadly, I experienced people passing away, as well as many people struggling with their mental health because of the pandemic.
I am immensely proud to have made a positive difference to the lives of so many people. Not just personally, but the collective efforts of the strong team of volunteers, which has helped hundreds, if not thousands during these tough times.
I strive to continue making a positive difference to the lives of people in our local and wider community.
I myself have been placed in a difficult predicament – working in the hospitality sector on a zero hour contract and being classed as clinically extremely vulnerable. I had to make the very difficult decision to return to work in August, as my job does not allow me to work from home.
As I am a new member of staff, my furlough payment is less than universal credit. Now, I am in the same situation this second lockdown. I'm sure there are many others facing the same tough situation. I have sadly had to use my savings to survive and keep myself going, as well as funding all my charitable work.
A year ago, I was in a critical condition and fighting for my life. Though the recovery process is a long journey, and there are still days when I experience pain, I keep myself going with a positive frame of mind.
I am so thankful to the team of nurses, doctors and NHS staff who looked after me, as well as the kind blood donors.
Without their genuine acts of kindness, I would not be here.
If there's anything positive we can take from this situation, it's that the NHS staff are finally starting to get the recognition and praise they so rightly deserve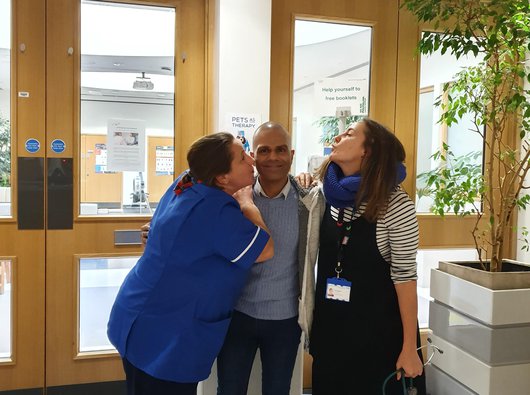 There are societal and cultural pressures that mean it's not easy to talk about our illnesses, weaknesses or what makes us vulnerable. However, by breaking down these barriers, we can help others, and give hope and support to those in need.
Now more than ever, people are facing hardships, and the effects of isolation are taking their toll on society. Having spent so many months in and out of hospital, I am all too aware of how difficult it must be for so many people.
If you have any worries or questions about blood cancer and/or the impact of coronavirus, please don't hesitate to get in touch with our free, confidential support team.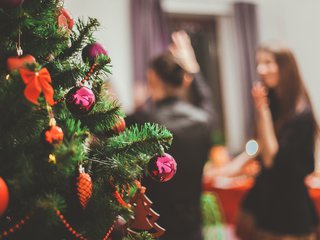 What's concerning you ahead of Christmas?
We want to understand how people with blood cancer are feeling about Christmas during the coronavirus pandemic, so we can provide the right support during this time.
Fill out our short survey