Blood cancer and coronavirus
Your blood cancer treatment
This page explains how coronavirus may affect blood cancer treatment plans.
This page was last updated in 2021. We are in the process of removing old covid web pages. For now, please see our more current covid information which we update regularly, including:
The following page was last updated in March 2021:
Last updated: 12 February 2021
Cancer treatment is still a priority for the NHS. In spite of the pandemic, cancer services are working hard to meet people's needs, whether they are recently diagnosed, having treatment, or receiving follow-up care. The government and NHS have been clear that essential and urgent cancer treatments should still be continuing.
Some people with blood cancer have had their treatment plans changed or even delayed during the pandemic. This has been to protect the person from coronavirus, rather than because of the hospital's capacity. We know that people with blood cancer have a higher risk of serious illness if they get coronavirus. And many cancer treatments weaken your immune system, putting you at even more risk.
So it may actually be safer to change your treatment, if the risk of having it outweighs the benefit. Treatment decisions like this are always based on what's best and safest for you, after weighing up the risks, and your healthcare team should explain the reasons for any changes.
It is true that the high number of coronavirus cases and the number of people needing hospital treatment for it is having a big impact on NHS services. There are concerns that some treatments could be delayed because of this. For example, some very high-risk treatments (which require an intensive care bed to be available just in case it's needed) could need to be rescheduled if there aren't any intensive care beds free. But this would be a very last resort, and at the moment, we are not aware of any urgent blood cancer treatments being postponed for this reason. The NHS is currently working on ways to increase capacity to meet demand, for example by opening up more intensive care beds in hospitals that aren't full.
Anthony Nolan have some information on their website about the impact on stem cell transplants, which they say are not affected at the moment.
If you're having blood cancer treatment or waiting for treatment, you may feel worried about the situation. It's important to remember that the most changes to treatment are based on what's best and safest for you. Basing treatment decisions on capacity or availability is something the NHS is doing everything it can to prevent.
If you are worried about your treatment being changed or delayed, speak to your healthcare team about it, or speak to us. We can give you time to talk things through and we'll have the latest information. Call us free on 0808 2080 888 or email [email protected]
You can also talk to us if you're having treatment in hospital and are worried about your safety while coronavirus cases are high. Find out more about this below in the section 'What if I need to go into hospital?'
You may also be interested in the NHS Cancer Services Recovery Plan, published in December 2020.
Questions for your healthcare team about changes to your treatment plan
Last updated: 15 January 2021
If you are worried about changes to your treatment, asking your healthcare team some key questions could help, such as:
Is my treatment being changed because of the risk of coronavirus?
Is my treatment being changed because of capacity at the hospital?
If your treatment is changed:
How is my treatment being changed?
What are the reasons for changing my treatment?
What are the risks and benefits of changing my treatment?
Will these changes have an impact on the outcome of my treatment?
Can you tell me when you expect to reschedule my treatment? (if treatment is postponed)
How might my treatment change?
Last updated: 15 January 2021
Some people with blood cancer have had their treatment changed, to reduce their risk of serious illness from coronavirus.
In some cases, these changes have meant that there are more treatment options, and kinder ones, than were previously available.
Here are some examples of the type of changes you may experience:
Your drugs – The dose or combination of drugs you're given may be adjusted so the effect on your immune system isn't as severe.
How drugs are delivered – You may be given drugs in a different way, for example, as tablets or subcutaneous injections (injections under the skin) rather than by intravenous infusion (drip). This could mean you have your treatment at home, or spend less time at the hospital.
Shorter or less frequent treatments – You may have treatment over a shorter period of time. Or you may have treatment less often, for example, every six weeks instead of every four weeks. Both these changes could mean you spend less time at the hospital and may be kinder to your immune system.
Treatment breaks – You may have more time off between rounds of treatment, reducing your time at the hospital.
You'll be closely monitored by your healthcare team, and any decisions about your treatment will be reviewed if your condition changes.
If you would like detailed information, NICE has published rapid guidance on how particular treatments can be managed during coronavirus:
Anthony Nolan has detailed information on coronavirus and your stem cell transplant.
There is more detail about treatment guidance for specific blood cancers in our healthcare professionals pages about clinical guidance.
If I need treatment or monitoring, how will the NHS protect me?
Last updated: 14 January 2021
The NHS has come up with changes to the way they normally work to increase the safety of patients and staff. You may find your hospital uses some or all of these measures:
Virtual appointments – Some appointments might be offered by video call or phone to reduce the number of visits to the hospital. See our blog about making the most of virtual appointments.
Medicine delivery – You may have medicines delivered to your home, or may be able to pick them up from a 'drive-through' dispensary.
Local blood tests – You may have blood tests done at a local clinic instead of at your hospital.
Arrival times – If you go to hospital for an appointment, you may be asked not to arrive early so waiting areas don't get overcrowded. If you drive to appointments, you may be asked to wait in your car until you receive a text to come in.
Change of treatment centre – If your usual hospital is treating coronavirus patients, your treatment may switch to another location.
No family or friends – You may be asked not to bring anyone with you to appointments. Many people will find this hard, but it's another important way of protecting people with cancer and NHS staff by limiting person-to-person contact.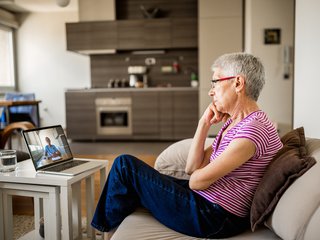 Virtual appointments
Read our tips and advice on how to make the most of video calls with your healthcare team
Find out more
What if I need to go into hospital?
Last updated: 12 February 2021
If you need to go to hospital for an appointment or for inpatient treatment (staying overnight or longer), the medical staff will follow NHS guidelines and take every care to limit your risk of exposure to coronavirus. All staff, including non-medical staff, have been briefed to pay scrupulous attention to hygiene, and cleaning has been stepped up.
The NHS has developed a range of measures to protect you if you need hospital treatment or monitoring:
Cancer hubs – In some areas, cancer hubs (groups of hospitals which only treat people with cancer) have been set up.
Designated coronavirus areas – In hospitals which are treating people with coronavirus, this is happening in a separate area or wing of the hospital, clearly marked with warning signs, and a separate entrance and exit.
Designated staff – Staff, including cleaners, don't move between coronavirus areas and other areas of the hospital.
Designated areas for vulnerable patients – People whose immune systems are compromised (such as people with blood cancer) are seen in a separate area, away from other patients.
Single rooms – Where possible, people needing treatment in hospital have it in a single room rather than on an open ward.
Restrictions on visitors – England, Scotland, Wales and Northern Ireland have separate guidance on hospital visiting. All visitors must wear face coverings, and use hand hygiene and social distancing to limit the spread of infection. Check your hospital's website for more information on their current visitor policy.
Personal protective equipment (PPE) – Staff in any setting (inpatient or outpatient) wear PPE when giving care to someone in the clinically extremely vulnerable group – under NHS guidelines, the minimum is a disposable apron, gloves and surgical mask. All staff must wear face masks in all areas of the hospital, whether or not they are giving care.
Testing of staff and patients – Hospital staff, including those with no symptoms, are being tested regularly as are some patients (such as those coming in through emergency, for inpatient care or surgery, or who develop symptoms in hospital). If you have any questions about staff testing at your hospital, contact your treatment team.
People being admitted as inpatients (including for day surgery) may be asked to self-isolate for 10 days prior to coming in, to ensure they don't have symptoms.
People coming in as outpatients will need to be asymptomatic (not have coronavirus symptoms).
Face masks – Wearing a face mask, even a home-made one, can help to lower the risk of spreading coronavirus, especially if people have no symptoms and don't know they're infectious. All members of the public should wear a face mask when visiting hospital in order to protect others.
It's important to recognise that cases of coronavirus are still high and lots of people are being treated for it in hospital. So it's not surprising that despite the safety measures hospitals have in place, there is a risk of catching coronavirus while you're in hospital. The number of infections picked up in hospital tends to reflect the rate of infection in the community.
The level of risk will depend on the particular circumstances. For instance, the risk of going to an outpatient appointment will be lower than the risk of being admitted to hospital for a longer period of time.
If you are worried about going into hospital, talk to your healthcare team about the benefits and risks involved. If your healthcare team advise you that visits to hospital for tests or treatment are essential, make sure you go to your appointments.
We're here for you if you want to talk
Our Support Services Team are here on 0808 2080 888 or [email protected] to talk through any worries you have about going to hospital or anything else to do with your diagnosis or treatment. They'll speak to family and friends too if people around you are concerned.
If I catch coronavirus it won't be due to any carelessness on behalf of the hospital staff. Everyone wore their masks, washed their hands, used gloves and aprons, and I had no contact with any other patients. I felt remarkably safe and well looked after.

- Adrian, living with chronic lymphocytic leukaemia
How can I get to hospital safely?
Last updated: 20 May 2020
If you are at high risk from coronavirus and you need to visit hospital, the best way to travel is by car, ideally on your own or with a member of your household. If that isn't possible, ask a family member or friend if they can drive you - check they have no symptoms of coronavirus and sit in the back of the car on the left.
Your hospital may be able to provide a patient transport service if you are in the clinically extremely vulnerable group - check with your hospital. They will use measures like extra cleaning and PPE (personal protective equipment) to protect you while you travel.
Other organisations may be able to help with transport to hospital appointments, including:
If you are travelling by taxi, ask when booking if there are any special measures in place to protect you, and follow the advice of the driver.
If you have to travel by public transport, try to stay two metres away from other people, or at least face away from them. Try not to touch surfaces and don't touch your face. Wash your hands or use hand sanitiser as soon as you get to your destination. You should also wear a mask or face covering to protect other people. The government has more advice on travelling safely.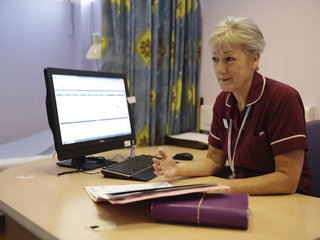 My healthcare team and me – managing through coronavirus
Mel explains how his healthcare team has relieved the anxiety of hospital appointments during coronavirus
Mel's story
Last updated: 4 March 2021
It can be hard to tell the difference between coronavirus symptoms, symptoms of blood cancer and side effects of treatment, but in all cases it's best to get medical advice straight away.
If you experience any new symptoms, tell your healthcare team immediately.
If you're having chemotherapy and feel unwell in any way, contact your local cancer chemotherapy helpline. This will make sure you get the appropriate assessment and care.
If your immune system is weak, then you're more at risk of a life-threatening condition called neutropenic sepsis. The main symptom of neutropenic sepsis is a high temperature (over 37.5°C) and it needs to be treated urgently with antibiotics.
We have more information on what to do if you have symptoms which could be coronavirus, and when to get urgent help.
If you're admitted to hospital with suspected coronavirus, tell the hospital staff that you're having treatment for blood cancer. To help you do this, you can download and use our Blood Cancer Medical Information Card.
Last updated: 14 January 2021
We are not aware of any medicine shortages as a result of COVID-19. The NHS and Government have been working closely with industry, looking at supply chains to ensure a secure supply of necessary drugs.
There are processes in place to manage the supply of medicines in the UK and prevent future shortages, even in challenging circumstances.
At the moment, no drug manufacturers have said they expect problems with supply due to coronavirus.
How will my treatment be affected if I'm on a clinical trial?
Last updated: 20 May 2020
If you are already having treatment as part of a clinical trial, you should be able to continue this treatment if your hospital team think it's safe. Where trials are still running, they're using reduced contact, for example, follow-up by telephone or video rather than face-to-face appointments. Speak to your treatment team if you have any questions.
Opening new trials or recruiting new patients to trials has stopped in many areas. People on clinical trials need close monitoring at hospital and this may not be possible during a pandemic. Resources have also been redirected towards trials to improve care for coronavirus patients.
We're currently working with the blood cancer research community to understand how blood cancer research might continue during this time, and how we can help.
Should I be taking vitamin D?
Last updated: 2 December 2020
Talk to your healthcare team about whether it's safe for you to take vitamin D supplements.
Vitamin D helps our bodies absorb calcium and is important for bone and muscle health. As we get most of our vitamin D from sunlight, we're generally advised to take supplements throughout the winter.
But some health conditions, including some types of cancer, can lead to high levels of calcium. So vitamin D supplements may not be suitable for everyone with blood cancer.
The government is now offering clinically extremely vulnerable people 4 months' supply of vitamin D for free. But if you have a cancer diagnosis, they advise checking with your healthcare team before you apply.
There's been some publicity about vitamin D offering protection from coronavirus, but to date there's no clear evidence to back up this claim.
Join our mailing list for key updates about coronavirus for people with blood cancer, what we're doing to help, and ways you can help, including campaigns you may be interested in.
Support for you
Call our free and confidential support line on 0808 2080 888. We are currently receiving a very high volume of calls related to coronavirus, so if you're not able to get through straight away, please leave a message and we'll get back to you as soon as we can.
You can also email us if you prefer to get in contact that way. We'll usually get back to you within two working days, but due to the current rate of calls and emails we are currently receiving it may take us longer.
Talk to other people with blood cancer on our Online Community Forum – there is a group for coronavirus questions and support.
You can also find out what's helping other people affected by blood cancer through coronavirus and beyond in our pages on living well with or after blood cancer.
The following companies have provided funding for our coronavirus support, but have had no further input: AbbVie, AstraZeneca, Celgene, Gilead, Incyte, Kyowa Kirin, Novartis, Pfizer, Sanofi, Takeda.