Covid vaccine and blood cancer
How to book a covid vaccine if you have blood cancer, or live with someone who does
Find out how many covid vaccinations you should have, and how to get them.
Page updated 27 October 2023
Autumn boosters 2023 (called Winter booster in Scotland)
The government has confirmed there will be an Autumn 2023 booster campaign.
Those eligible for an Autumn 2023 booster are:
all adults aged 65 years and over
residents in a care home for older adults
people aged 6 months to 64 years in a clinical risk group, as laid out in the Immunisation Green Book (this includes people with blood cancer and people with a history of blood cancer)
people aged 12 to 64 years who are household contacts of people with immunosuppression
frontline health and social care workers
people aged 16 to 64 who are carers, and staff working in care homes for older adults.
How to get your covid vaccination booster
This is how to get your covid booster:
England – You can book a booster online on the NHS website, through the NHS app or at a walk-in vaccination site. If you cannot book online or through the app, you can call 119 free of charge to book. If you have difficulties communicating or hearing, or are a British Sign Language (BSL) user, you can use textphone 18001 119 or the NHS 119 BSL interpreter service. You might also be invited to get a vaccine by your GP surgery, but you do not have to wait for an invitation to book. You may be offered a flu vaccine at the same time as your covid booster.
Scotland – Invitations to book covid and flu boosters are being sent to eligible groups now. You may get a letter, email or text. Over 50s can receive a flu jab in Scotland, compared to only over 65s in England.
Wales – Vaccinations for flu and COVID-19 are being rolled out to over 65s, at risk groups and those working or living with vulnerable people. You should receive an invitation from your local health board.
Northern Ireland – Eligible groups can get their covid and flu boosters from their GP surgery or community pharmacy. Contact your GP surgery or community pharmacy to check what arrangements they have made for vaccinations. Find a vaccination clinic.
As well as promoting the autumn booster programme, health authorities are advising people to take precautions to stop the spread of covid and flu.
Where to get help
If you have questions or need help getting a covid vaccination, call the relevant NHS helpline:
In Wales you can contact your Local Health Board and in Northern Ireland, your Health and Social Care Trust.
You can also contact our free Support Service on:
Vaccines being offered this season
You will be given a vaccine made by Pfizer, Sanofi or Moderna.
The vaccines are updated forms of the vaccines used in previous campaigns, and produce slightly higher levels of antibody against some strains of Omicron.
As we cannot predict which variants of COVID-19 will be circulating this winter, the Joint Committee on Vaccination and Immunisation (JCVI) have concluded that any of these updated vaccines can all be used in adults.
For a very small number of people, another vaccine product may be advised by your doctor.
Please accept the vaccination that is offered to you as soon as you are able to – it is important to have your vaccination to build up your protection against severe illness before the winter.
Shorten your booster wait
We know some people are worried about attending busy vaccination centres for their covid vaccines. The NHS in England have sent us this poster, clarifying that you can be fast-tracked if you are immunosuppressed, so you don't have to wait in a busy queue. You may want to print this out and take it to your vaccination centre, to help you ask for the extra protection.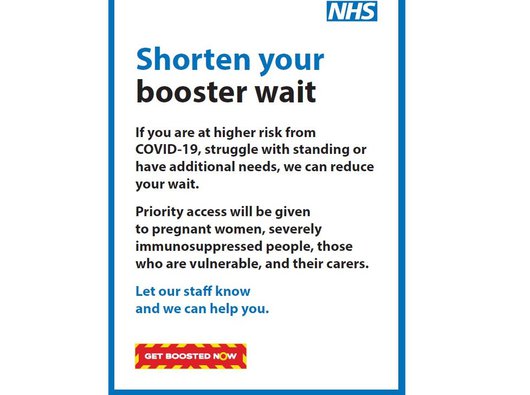 How many doses of covid vaccine have people with blood cancer been offered?
The covid vaccine schedule for people with blood cancer up to now has been:
1st primary dose – from around Jan 2021
2nd primary dose – from around April 2021
3rd primary dose – from around September 2021
4th dose (1st booster) – from around January 2022
5th dose (Spring 2022 booster) – from around April 2022
6th dose (Autumn 2022 booster) – from around September 2022
7th dose (Spring 2023 booster) – from around April 2023
Regardless of which doses you've had so far, you should get your booster doses when they are offered.
Getting re-vaccinated after a stem cell transplant
If you had the covid vaccine before having a stem cell transplant, you will need to be re-vaccinated after your transplant. Your transplant team will give you information on this, including when to have your vaccinations. The NHS recommends you have a course of three primary doses, followed by a booster dose.
NHS England has confirmed that the bivalent vaccines Comirnaty (Pfizer) and Spikevax (Moderna) can be used for both primary and booster vaccinations. Bivalent means the vaccines target two covid variants.
Anthony Nolan has more information about re-vaccination following a stem cell transplant.
Blood cancer and immunosuppression
Most people who are living with blood cancer and many who are in remission from blood cancer have a weakened immune system, which makes it harder to fight off viruses and other bugs. This is called immunosuppression. Immunosuppressed people are at higher risk of getting seriously ill from covid.
That's why, when covid vaccines first become available, people were prioritised for vaccination if they:
had any type of blood cancer (leukaemia, lymphoma, myeloma, MDS, MPN), whether they were on treatment or not
were immunosuppressed as a result of blood cancer in the past
had had a stem cell or bone marrow transplant in the past
had any other underlying condition that meant they were classed as "clinically vulnerable" or "clinically extremely vulnerable".
Because immunosuppressed people are at higher risk from covid, household contacts (people who live most of the time with someone who is immunosuppressed) and unpaid carers were also prioritised for vaccination.
Going forward, people who are immunosuppressed, including most people with blood cancer, are being offered extra vaccinations. While covid vaccinations may not work as well for immunosuppressed people, there's evidence that repeated doses can offer better protection. People who are severely immunosuppressed may also be eligible for new antiviral treatments if they get covid.
We have more information about research into how effective covid vaccinations are for people with blood cancer.
Support for GPs
What are the side effects of the covid vaccine?
Like all vaccines, the covid vaccines can cause side effects, although not everybody gets them.
Most side effects are mild and should go away within a week. Common side effects include:
a sore arm from the injection
feeling tired
a headache
feeling achy
mild flu-like symptoms
feeling or being sick
Each vaccine comes with a patient leaflet that lists all the known side effects.
Healthcare workers who administer the vaccine can tell you about any side effects and are trained in what to watch out for. You will also be asked to wait for 15 minutes after your injection to make sure you are OK before you leave.
Stopping the spread of covid and flu
Practical advice from public health bodies to stop covid and flu spreading includes:
avoiding contact with others when unwell
washing hands frequently with soap and water, or using hand sanitiser
catching coughs and sneezes in a tissue ("catch it, bin it, kill it")
wearing a face mask if visiting someone with a weakened immune system
ventilating shared spaces as much as possible
getting vaccinated if you are eligible.
Join our mailing list for key updates about coronavirus for people with blood cancer, what we're doing to help, and ways you can help, including campaigns you may be interested in.
Support for you
The following companies have provided funding for our coronavirus support, but have had no further input: AbbVie, AstraZeneca, Celgene, Gilead, Incyte, Kyowa Kirin, Novartis, Pfizer, Sanofi, Takeda.