Covid vaccine and blood cancer
Coping with the lifting of restrictions
Whatever your situation, we want to give you the practical information you need to look after yourself, make decisions and get support.
Page updated 25 November 2022
What are the risks for people with blood cancer?
If you've been diagnosed with blood cancer, it's important to know:
People with blood cancer have a higher risk than other people of getting seriously ill with covid, being hospitalised or sadly dying from covid.
Covid vaccines are less effective in people with blood cancer than other people. This is because the vaccines need your immune system to react in order for them to work.
Although the vaccines don't work fully in people with blood cancer, they do still offer some protection, which could be enough to stop you being hospitalised with covid. So it's really important to make sure you get all of your vaccine doses.
Being at higher risk of serious illness from covid, while also being less protected by the vaccines, means it's really important to think about your personal level of risk and how you can manage this.
We know this is a hard message to hear, but we want you to know, so you can make informed decisions about your daily life. There's more support to help you do this below, and we are always here if you need to talk.
Reducing your risk
Everyone's situation is different, and it's not always easy or possible to remove every risk. But there are lots of things you can do in combination to protect yourself in your daily life:
Get all of your covid vaccine doses - with each booster, more people with blood cancer develop covid antibodies.
Know how to access the new antibody and antiviral treatments if you do get covid. They have been found to be effective in people with impaired immune systems who get covid.
Wear an FFP3 face mask - a mask can protect you from inhaling particles in the air like dust, pollutants, bacteria and viruses. Masks classed as FFP3 offer the best protection, as they protect against the smaller particles.
Order free lateral flow tests - use them after being in close contact with other people, and ask people you spend time with to take a test before meeting you.
Remember that ventilation is key to reducing risk - when you mix with other people, try to have good ventilation by meeting outside or having a window open.
Order one of our free shielding badges, to let people know you still need space.
Talk to us and get support - we know this is an extremely worrying time. Even though we can't take all the risks and worry away, just talking to someone who understands can help.
There is more about coping with uncertainty and anxiety further down this page, including tips from a clinical psychologist and other people with blood cancer.
You should also know about:
Your rights at work - the government's specific guidance for people who are immunosuppressed still says: "Work from home if you can. If you cannot work from home, speak to your employer about what arrangements they can make to reduce your risk." You still have rights as someone with blood cancer (which is classed as a disability) even after self-isolation rules end.
Financial support - while the government's covid specific financial support is being stopped, you would still be eligible for support like Sick Pay under the normal rules, if your doctor or medical team believe you're not able to work because of your blood cancer. We have much more information about financial support including benefits, grants, help with bills and reducing some of your health costs.
Following a change in NHS guidance, it's no longer compulsory to wear face masks in all areas of hospitals and other healthcare settings. If you are immunosuppressed, this may mean you may feel more worried about attending appointments.
It's understandable if you are concerned, but it's essential to keep going to your appointments. There are steps you can take to lower your risk.
Remember that hospitals and clinics will still carry out local risk assessments in settings where patients are at high risk from covid. So departments like haematology or oncology may still require everyone to wear face masks.
If you're not sure what the policy is or you have any concerns about your level of risk, call the hospital, clinic or surgery:
Explain that you are immunosuppressed and at high risk from covid infection.
Ask what the policy is about mask-wearing in the department or clinic where you have an appointment.
If you don't feel reassured, say that you will be wearing a face mask and request that staff and visitors do the same.
Refer staff to our information on vaccine efficacy if you need supporting evidence.
Remember that surgical masks and FFP masks offer better protection than cloth face coverings. Masks classed as FFP3 offer the best protection to the person wearing them. Surgical and FFP masks should be used once and thrown away.
Keep following other infection control advice such as thoroughly washing or sanitising your hands regularly, avoiding touching your face and staying 2 metres from other people if you can.
Six blood cancer and covid stories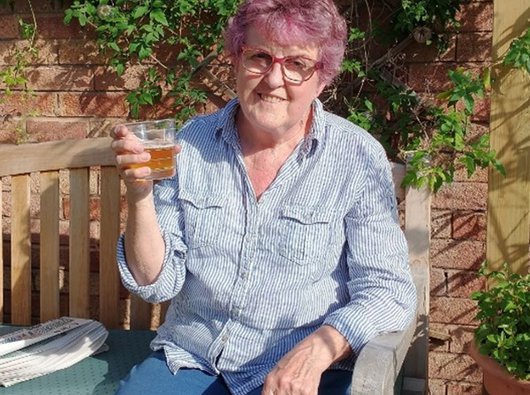 Making decisions that are right for you
Whatever your situation, you can take some control by thinking about the different risks in your life, and which ones you might be able to change.
Even with risks that you can't completely remove, there are probably ways you can make them slightly less risky. There are tips below about things to try if you are worried about the risk from school or work.
You might want to start by writing out a list of activities you do. For example: going to the shops; looking after children; going to work; meeting friends; doing a hobby with other people; going out to eat.
You can then think about:
Which risks you'll remove completely (for example, you might get shopping delivered so you can avoid the shops)
Which risks you'll reduce (for example, still spending time with family, but avoiding crowded situations)
Which risks you can't you remove (for example, going to work)
To help you decide which risks to remove completely, and which ones you can reduce, think about each activity you do. Some things are less risky than others.
Higher risk activities:
Mixing with people quite often
Being in large groups of people or busy places
Having close physical contact with people
Mixing with people indoors
Being around people who don't wear masks
Lower risk activities:
Mixing with people less often
Seeing people individually or in very small groups
Mixing with people outdoors, or where there's good ventilation
There will probably always be some level of risk in what you do. Most people need a balance between trying not to catch covid, but still being able to live their life.
Talking to someone can help you work things out - talk to other people with blood cancer in our online forum, or talk to us.
Practical tips
When you are doing things, the risk will be lower if:
People you spend time with have been vaccinated and boosted
People you choose to see are not mixing widely themselves
People take a covid test before meeting you
You meet people outdoors or where there's good ventilation
You and those around you wear a face mask
You don't share food, cutlery, tea towels, bath/hand towels
You could also consider:
Make use of lateral flow tests
Take regular rapid covid tests, and ask other people to do the same before they see you . These are available for free from pharmacies or online. It's very important to know that these tests are far from 100% accurate and false negatives (where someone tests negative even though they are carrying covid) are common. While a positive test can certainly help show if someone does have covid, so they can isolate and you can avoid mixing with them, a negative covid test does not prove that someone doesn't have covid.
If you have children at school, you might be very worried about catching covid this way.
Talk to your child's school about your situation. They might be able to find ways to further reduce the risk of your child catching covid at school. Some schools are sill able to support home learning and are trying hard to support vulnerable families.
Ask your medical team for advice. They may give you information to share with the school, to help you have a conversation.
You could talk to other parents with blood cancer on our online community forum.
It's a worrying time for parents and children. Our Support Service can tell you about support and resources for your children if they are finding things hard.
If your job can be done from home, tell your employer that you need to stay at home, because you are at high risk from covid.
If you've been diagnosed with any blood cancer, you have rights. You are protected by disability law across the UK, even if you're in remission.
If you can't work from home, employers still have a duty to protect the health and safety of all their staff. Talk to your medical team and get a note to say it's unsafe for you to attend the workplace, or that changes need to be made to reduce risk.
As someone with blood cancer, you are protected by the law, which says that your employer must consider reasonable adjustments to help you stay safe at work. This can include making changes to reduce your risk of infection at work.
You might want to share our fact sheet for employers with your employer.
If you're still being pressured to go to work, despite your medical team's advice that it is unsafe, get advice from Acas (Helpline: 0300 123 1100).
We have more information about:
Legal protection from discrimination
Adjusting your role or hours to reduce risk
Financial support
See our information on work and money.
Talking to family and friends about your level of risk
Some people say their friends and family don't fully understand why they are still so worried about covid.
Other people are finding it hard to say no and are feeling guilty about not wanting to mix with others.
Show your family and friends our information about vaccine efficacy in people with blood cancer, to help explain why you are so concerned.
You can also talk to us about how to stick to your boundaries. It's something we often talk to people about.
Coping mentally
This is a really difficult situation to be in, for you as well as your family and friends. Coping mentally with all the worry is challenging.
Even though we can't take all the risks and worry away, just talking to someone who understands can help. Other people with blood cancer in our online community forum may have similar worries and could give you tips from experience.
We will continue to advocate on behalf of everyone with blood cancer, to get the government and the NHS to improve the care people with blood cancer are getting.
In the team time, we want you to know we are here to support you through it. Contact our Support Service on 0808 2080 888 or [email protected].
Whatever you want to talk about, we are here.
"As someone with blood cancer, every day, month and year I can do things feels extra precious. But I feel like covid has robbed me of some of this.
"What I have to keep coming back to is 'scaling the problem' – as long as I don't catch covid and die from it, then anything is better than that. I also try to see what covid has given me – for me, this is more time with family. It's easy to become fixated on the losses, but there have been some gains. To anyone else struggling with this, please talk about your concerns – don't hide them! There are lots of people who understand what you're going through in our online forum."
Mel, living with chronic lymphocytic leukaemia (CLL).
Dealing with uncertainty
Lots of people talking to us are finding that not knowing how long they'll need to shield for, or not having the government support to be able to shield if they feel unsafe, is becoming increasingly difficult. There are also uncertainties about how effective the vaccines are, and what happens as new variants emerge.
All this uncertainty makes it difficult to look to the future, to plan, to feel hopeful or even happy. It might also be having an impact on your employment or personal relationships. Uncertainty can also cause anxiety, feeling out of control, anger or sadness.
"It's important to acknowledge that we are living in challenging times. Uncertainty, whether from coronavirus, a blood cancer diagnosis, or even something like moving house, can sometimes feel unbearable, and lead us to 'catastrophise' or focus on the worst possible scenario. This type of thinking is a common response and may seem protective, but it can lead to spiralling "what if" thoughts and panic.
"The first step is to recognise these unhelpful thoughts and to ask yourself, are the things I'm thinking/telling myself based on the information available to me? What information do I need to make an informed decision? Is the source of my information reliable? Sometimes we select information that magnifies negative details, and filter out information that offers balance. There's a lot we don't know, and our minds can fill in the gaps with incomplete information, predictions and worry.
"The second step is to ground yourself in the present and the here and now, which can help you sort through your thoughts and feelings, and allow you to reflect before you respond or act. This gives you the space to ask yourself, what do I need right now to help me cope? What support is available to me? We often feel better when we have a plan, as being proactive and focusing on the things we can control can reduce worry.
"The third step is to ask yourself, who can I talk to about this? How have other people found ways to cope? Isolation can increase fears and create more unhelpful thoughts. Seek out connections with others. Sometimes we need help from family or friends, or a professional, to help us sort through our thoughts and feelings and find ways to respond to challenges. You can contact our Support Services Team to talk to one of our team.
"The most important thing is to be kind to yourself. You are not alone. Your feelings are normal. It is normal for your capacity to cope with change to fluctuate, especially if you have other stressors in your life. There are steps you can take and strategies you can practise, to help manage anxiety – some of these are described below."
Self-care tips from a clinical psychologist
"Shielding as a family (for those of us who chose to) hasn't been easy for household members either.
"It's been almost a year of full isolation for us too. For those of us who've watched our loved one fight for their life, the sense of responsibility to protect them now is overwhelming. Better days are coming though, and we'll keep doing it for as long as it takes, because more than most, we know what's at risk."
Jude, whose husband is living with lymphoma.
In times of uncertainty, many people find these things helpful:
First of all, acknowledge and accept how you feel – it's normal to find this uncertainty difficult.
Talk about it – there are many people with blood cancer struggling with this, who are supporting each other. Talk to others or simply read about what helps them in our online forum.
Limit how much news you read or watch. It can become slightly addictive, especially if you're feeling anxious. Try limiting it to once a day.
Take moments to engage with or focus on something, to bring your mind into the present moment, rather than worries about the future. For example, do something practical, take some long, slow breaths and count them, or engage your senses by listening to a song, or just really looking at what's around you, whether in your home or on a walk.
Try mindfulness – there are so many ways to be 'mindful' (it's not just through meditation) and it reduces stress. Try some of our guided exercises – they take just a few minutes and could help you to feel calm.
How are other people with blood cancer managing their own risks?