Staying safe and government guidance
Continuing to shield - local lockdowns and other reasons
There may be times when people with blood cancer need to shield, or take more strict precautions. This page explains those situations and where to find guidance.
This page was last updated in 2021. We are in the process of removing old covid web pages. For now, please see our more current covid information which we update regularly, including:
The following page was last updated in March 2021:
Shielding
Page last updated 31 March 2021
Shielding means staying at home as much as possible and minimising interaction with others. It can mean things like avoiding shops, pharmacies, school and work. People who are considered clinically extremely vulnerable from coronavirus, which includes many people with blood cancer, have been advised to shield for periods of time throughout the pandemic, when cases of coronavirus were high.
Government advice to shield is paused from 1st April 2021 in England and Wales, from 12th April in Northern Ireland, and from 26th April in Scotland. This is because the rates of coronavirus in the community have reduced.
For current guidelines for people who are clinically extremely vulnerable, see our page on coronavirus guidance for adults at high risk.
Local restrictions
Each of the four countries of the UK has different restrictions in place to protect people from the spread of coronavirus. Within those countries, restrictions may vary from area to area, depending on local risk levels. The situation is constantly shifting, so you need to make sure you follow current guidelines for your area.
If there are cases of a variant of concern in your local area (such as the Delta variant which originated in India), you may want to be extra strict about what you do until the situation changes or more information is available.
Find out more about what the guidelines are in different parts of the UK.
If your healthcare team advises you to take extra precautions
Even if shielding is not recommended nationally or locally, some people's healthcare teams may advise them to remain extra cautious.
For many people with blood cancer, their condition or treatment means they are at greater risk of getting an infection. An infection can also cause more serious problems for someone with blood cancer. Even before the coronavirus pandemic, many people with blood cancer were advised to be very cautious about infection risks. Speak to your healthcare team about your personal level of risk.
You may also find it helpful to read our information on what practical support is still available for people who are shielding or at high risk.
If you make a personal choice to take extra precautions
You may decide to take extra precautions to protect yourself or someone else in your household, even if your healthcare team haven't given you specific guidance on this.
It's entirely your choice how cautious you wish to be while the pandemic continues. You may find it helpful to read our information on understanding your level of risk. You can also contact our Support Services Team to talk through your feelings.
If you choose to take extra precautions, we have information on what practical support is available to help you.
Useful resources
Order or download our fact sheet on understanding infection, which explains how you can reduce your risk of infection if you have blood cancer.
You may also find our fact sheet for employers helpful in explaining why you need to be more careful and what can help.
Join our mailing list for key updates about coronavirus for people with blood cancer, what we're doing to help, and ways you can help, including campaigns you may be interested in.
Support for you
Call our free and confidential support line on 0808 2080 888. We are currently receiving a very high volume of calls related to coronavirus, so if you're not able to get through straight away, please leave a message and we'll get back to you as soon as we can.
You can also email us if you prefer to get in contact that way. We'll usually get back to you within two working days, but due to the current rate of calls and emails we are currently receiving it may take us longer.
Talk to other people with blood cancer on our Online Community Forum – there is a group for coronavirus questions and support.
You can also find out what's helping other people affected by blood cancer through coronavirus and beyond in our pages on living well with or after blood cancer.
Fundraise your way
Some people say that it helps to have a goal to focus on in these difficult times. And some in our community have found fundraising for blood cancer research a worthwhile lockdown activity.
We have lots of ideas for virtual fundraising events and guidance to help you organise one, if you feel this is something you'd like to try.
For inspiration, find out more about our Glasgow and District branch's Dine In event, a triumph over coronavirus restrictions and technology.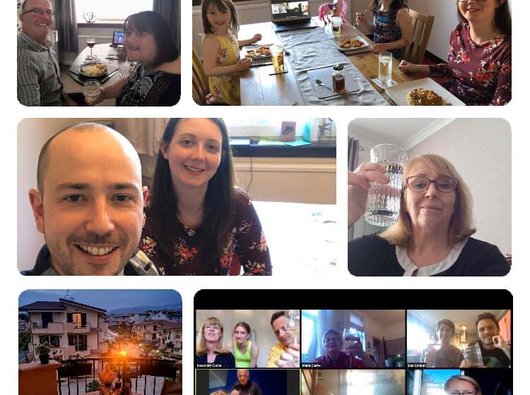 The following companies have provided funding for our coronavirus support, but have had no further input: AbbVie, AstraZeneca, Celgene, Gilead, Incyte, Kyowa Kirin, Novartis, Pfizer, Sanofi, Takeda.