Business as usual: working with CLL
Mel was diagnosed with CLL in 2013. He talks about how he's carried on working throughout watch and wait, treatment on a clinical trial and the coronavirus pandemic.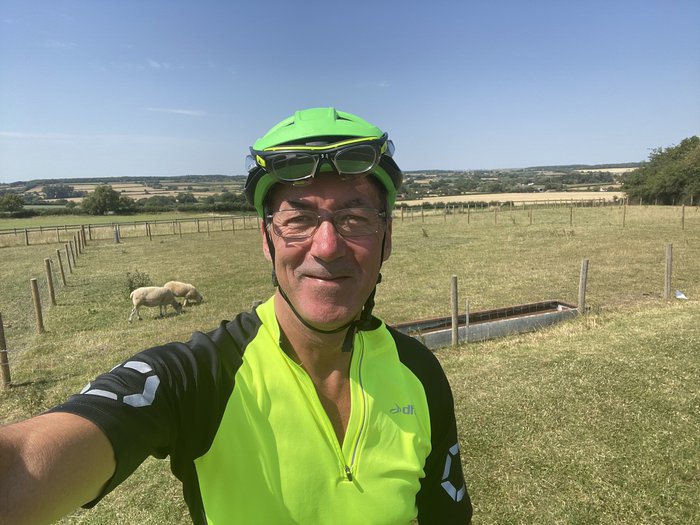 I found out I had CLL by chance. I went to donate blood platelets and was told to get checked out by my GP as I had a high white blood cell count. I was on watch and wait for the next four years.
Working on watch and wait
I was lucky, I had no symptoms for most of that time. I carried on with my job as a business manager in the automotive industry, telling just a few people at work about my diagnosis. My work involved travel to Europe and China, and fortunately, I was still able to travel on the company insurance.
I felt physically well but watch and wait does take an emotional toll, and I was depressed for the first three months. I needed something to help me look at things more positively, and I found it in endurance activities – marathons and triathlons.
Exercising is what helps me cope. It also helps me raise funds towards a cure, and I feel good about that too."
Marathons and triathlons aren't for everyone, but any exercise can lift your mood and build up your ability to handle the fatigue that goes with CLL. There's also something about controlling what's controllable that helps.
Moving onto treatment
In January 2017 I was told I needed to start treatment. I has swollen lymph nodes, but I still felt well, although within a few weeks my spleen started to feel very uncomfortable when I coughed or bent over. This was the first time I'd felt in any way limited by the CLL.
I enrolled on a clinical trial and started on a new treatment with two drugs: rituximab, which is given through a drip in hospital, and ibrutinib, which is a daily tablet. I didn't know how the treatment would affect my working life, but my employer was very flexible and willing to accommodate what I needed.
Again, I was lucky to get that particular treatment and not have much in the way of side effects. I just felt tired for a day or two after the rituximab infusions.
I'd opted to have my appointments on a Friday for two reasons – so I could have the weekend to recover, and enjoy the fish and chip supper that was on the menu every Friday!
My immune system was low, but my employer gave me my own office space so I wasn't in constant contact with other people."
They were also happy for me to work from home when I wanted to.
As it turns out, the only time I ever had off work was for my hospital appointments. With treatment, I started with the mindset that it would affect me badly. I was over the moon when I realised it didn't.
That may not be the case for everyone, and you should have the time off when you need it. But for me, I enjoyed my job. Being at work made things feel normal. And when I was working, I wasn't worrying.
I'm in the fortunate position of not needing sick pay or other financial help, but when I started treatment my clinical nurse specialist gave me an information pack with free parking permits and an exemption form for free prescriptions. These are both very welcome for anyone going through treatment.
I'm now on a daily dose of ibrutinib tablets and things are going well. In October 2018 I decided to retire, not because I was ill with the CLL, but because when you have cancer, you realise how precious time is, and I wanted to spend more time making memories.
As someone with a cancer, you're protected from discrimination at work by UK equality laws. For more information about your rights and financial support you may be entitled to, visit our page on money and work.
Working through the pandemic
Full retirement didn't last long, though, as I'm now a self-employed consultant. I've kept going through the pandemic – a lot of my work can be done online, and when I go on site, we have meetings on the factory floor. That's a huge open space so it's more or less the same as being outside.
I don't go abroad anymore as I know I've had no response to the covid vaccine, so it's just not worth the risk."
The company I'm working with is understanding about me not travelling. If you put in a good shift, people are happy to work round the things you can't do.
I'm still exercising, but I do it on my own. I might not be able take part in the big events, but I still get the benefit of keeping mentally and physically fit. And I hope to keep working for as long as I want to.
Your guide to CLL
Mel helped make our new guide to CLL, which covers:
finding out you have CLL
understanding CLL
coping with watch and wait
treatment options
living well with CLL
real stories of people living with CLL
You can order it for free from our online shop.