Coping with myeloma - how do you do it?
How do you live with a blood cancer that's treatable, but you know is likely to come back? We asked a group of people living with myeloma what helps them cope.
Myeloma is a type of blood cancer with many effective treatment options that lead to a period of remission, where there's little or no evidence of cancer. But it's also a relapsing blood cancer, which means it almost always comes back over time. So how do people manage to live with that?
People with other types of blood cancer, particularly relapsing-remitting types such as chronic lymphocytic leukaemia (CLL) and follicular lymphoma may find these stories helpful too.
Joan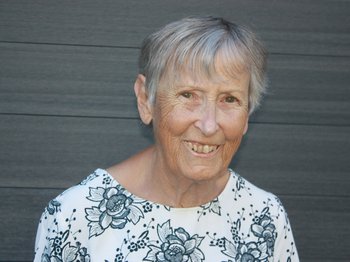 Sixteen years ago, Joan sneezed and thought she'd pulled a muscle. It turned out she had collapsed two vertebrae in her back because of bone damage caused by myeloma. She developed kidney failure a year later, which she treats at home with dialysis. But she has had no specific treatment for myeloma since her stem cell transplant in 2007.
After treatment, Joan was given exercise on prescription and went to a gym, but found it boring and looked for something else. "My consultant said don't do yoga because the unusual positions might not be good for my bones. I do Tai Chi once a fortnight and 10 years ago I discovered Zumba. I do that once or twice a week and I love it. Most of the time I don't have fatigue although I know others do. Exercise actually helps with fatigue anyway."
Joan has run a local myeloma support group for many years. "The first time people come they're distraught. They haven't heard of myeloma, they don't know anyone else who's got it, they're not sure what it is, they feel rotten in all sorts of ways. Coming and seeing a group of people who aren't necessarily as fit as fiddles but aren't looking like they're at death's door is reassuring for them."
Louise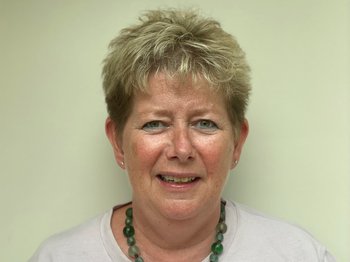 Louise was treated with a stem cell transplant in 2017. She recently had a recurrence of the myeloma in her left arm, which was treated with radiotherapy. She says that initially, she wanted to seize the day. "I drank lots of champagne, saw the Northern Lights and went on a big cruise with my partner."
Her advice now is, "Just look after yourself and be surrounded by people who love you. Corny, but true!" She goes on to explain, "It's fair to say myeloma has turned my whole world upside down. But I still have a world."
Since the recurrence in her arm, Louise has had to stop doing some things like swimming and cycling, but she has taken up other hobbies which help.
"I am doing oil painting very badly, which is really good psychologically. And I started a pottery course. I listen to audiobooks because I find it hard to concentrate on reading at the moment. I take trips in the UK with my partner and I've just booked my first trip abroad since the pandemic."
Louise has non-secretory myeloma, which means she's monitored using scans rather than blood tests. "I have a scan, and if it's OK, I know I'm good for the next three months. So I basically plan my life in three-month intervals."
Ian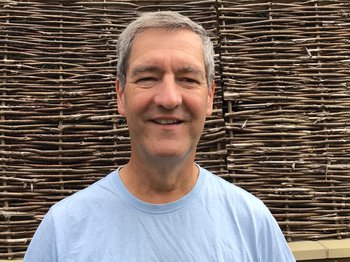 Ian quickly found that there weren't clear answers to questions about his prognosis. "The consultant's first reaction is, 'Well, everyone's different.' The thing about living with myeloma is there's no certainty. That makes it difficult to plan ahead. But I'd rather have that uncertainty than the certainty that I have only have three months left, for example. Of course you do have to learn to live with it."
Ian was a fit 53-year-old when he was diagnosed in 2019 after a shoulder injury didn't heal. He has stopped doing some activities like boxing and playing hockey – more because of moving to another area than because of the myeloma – but still plays golf and runs. He plans to do the next Great North Run and if all goes well, the London Marathon.
"I asked my consultant what more can I do, to basically live. And she just said, 'Get fit. That'll give you the best chance of coping with whatever treatments lie ahead.'"
Another motivation for Ian is to give a positive message about living with myeloma. "I want to do the Great North Run because I want my consultant to be able to say to someone, 'I've just given you this terrible news. But I have some patients who, years later, are doing the Great North Run.' It might not be like that for everyone, but it might give some hope."
Cecelia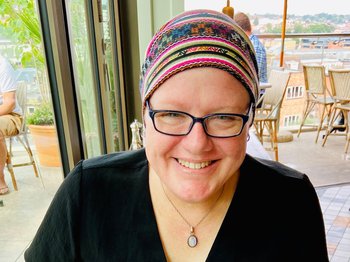 Cecelia got her diagnosis in 2020 after she thought she'd put her back out lifting something. The myeloma has affected her bones and she also has fatigue (extreme tiredness). She has learned that you have to think ahead when you're living with myeloma.
"Before, I would just pull on my walking shoes and go for a long walk. I can't do that now. If my wife and I go to the shops, it's not just 'Oh, let's go and have a wander for a couple of hours.' So we have lost a bit of spontaneity, because we know that I have limitations in terms of my energy levels."
She also has to think about being comfortable. "At home we have chairs that are right for me. So sometimes we'll invite somebody here rather than go to theirs, because we don't know what the setup is."
Cecelia also decided to get professional help for the emotional effects of having myeloma. "I felt numb when I was diagnosed. Now I'm in this sort of emotional middle ground. I don't really allow myself to get upset about stuff. But I don't allow myself to get excited either. I've recently started therapy to help with that. I've also done some online mindfulness sessions and sound bath therapy, which is right up my street."
She's also an advocate of online support groups but stresses that sometimes you may need to step away to protect your own mental health. "Everyone is so helpful and supportive. But perhaps someone has passed away from myeloma and you'll see the notifications coming through. So I have switched off the notifications at times because it can be overwhelming."
Craig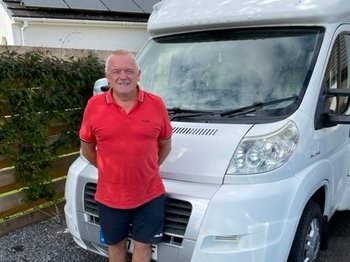 Craig was diagnosed just as the first lockdown started in 2020. He was 53. He's now in remission after a stem cell transplant and has a philosophical attitude to the timing of the diagnosis.
"It seemed like a bad time to be diagnosed, but it meant I didn't have to go to work. So I had a chance to get my head around it before I had to tell anyone. I must have read every bit of literature there is on myeloma during lockdown. I wanted to know what it was and understand what was wrong. What is this cancer? It took a while to get to the bottom of everything."
Craig has some nerve damage in his feet after treatment, but he doesn't let that affect his quality of life. "I live my life like there's nothing wrong with me at the moment because there isn't really. I've not stopped doing anything – I probably do more. I've started doing paddleboarding and bought a motorhome last year. Something we always said we were going to do when we retired. But obviously, myeloma brought things forward."
"Some people think, why me? Well I think, why not me? I'm not special. It happens. One in two people get cancer so it's not that unlucky really, is it? I'm just glad it's me and not my wife Mandy. I'd hate to it be Mandy."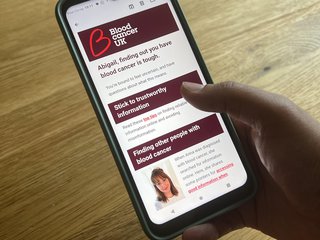 Get a weekly support email from us
We'll send you clear and simple information, practical tips, and advice from other people with blood cancer, to help during the first few weeks and months after diagnosis.
Sign up for blood cancer support by email