Louise S's story
How I found the financial support I needed
Louise, 63, was diagnosed with Hodgkin lymphoma in 2007 while she was working as a GP receptionist. She's been in remission since undergoing a stem cell transplant in 2009.
In early 2007, I started to experience palpitations, followed by a terrible itchy rash and increasing breathlessness. Over the next few months, despite multiple visits to my GP and a number of tests, I remained undiagnosed.
Then, in November 2007, after being admitted to hospital as a result of my worsening symptoms, I finally got a second opinion. The cardiologist had found something on an echocardiogram that he couldn't explain, so I was sent for more tests and then operated on a few days later.
It transpired that I had an unusual presentation of Hodgkin lymphoma – a huge mass had filled my chest cavity and was pressing against my heart.
Eight weeks after the operation, I started chemotherapy. I'd seen a Macmillan Cancer Support office in the hospital where I was being treated, and I sent my husband there.
Finances weren't at the forefront of my mind at this point, and I'd expected him to find out more about emotional support. Instead, he returned with an application form for Disability Living Allowance (which has now been replaced by Personal Independence Payment).
Being a glass-half-full person, I played down the impact of my diagnosis when I filled out the form. But a Macmillan volunteer helped me see that things might become quite tough a few weeks into treatment, and we reworked my application.
Eventually, I was given Disability Living Allowance and a Blue Badge. These helped with my hospital visits and occasional trips out.
I was also able to get an exemption certificate for the cost of prescriptions. Back in 2008, it was recognised that anyone having treatment for cancer would probably need more medication during and after treatment. This is still the case – the form is available from your GP.
Applying for sick pay
Reassuringly, while I was in hospital, the practice manager and one of the partners from the GP surgery where I worked visited me to tell me that my job was secure, no matter how long my treatment took.
A few months later, my employers told me that I needed to apply for statutory sick pay. The practice manager came to my house to help me with the paperwork and a covering letter. This wasn't as straightforward as applying for Disability Living Allowance, but within a month I was receiving sick pay.
If you've been diagnosed with blood cancer, I'd recommend checking with your employer to see what your sick pay entitlement is. It's also a good idea to keep the Department for Work and Pensions updated of any change of circumstances, as this may affect what you're entitled to. I did this – by phone or letter – each time something changed.
I kept a log of people I spoke to about benefits and copies of any letters and emails we exchanged. I found this helped me stay on top of everything.
Life after treatment
Four years after my diagnosis, I sent back my Blue Badge. I worried that people would see me walking around and think I wasn't entitled to it. Thankfully, today there is more understanding about unseen illnesses like blood cancer.
Once it became apparent that my diagnosis was more complicated than first thought, I resigned from my job. I successfully applied to access my pensions early, which has been a big help. I also receive Employment and Support Allowance (ESA), which provides money to support living costs if you're unable to work.
I initially applied for this while I was having treatment – back then, it was called Incapacity Benefit. I had to fill out a large form to assess my entitlement and I found the whole process quite complicated.
I then discovered that I would need to go for medical assessments every few years, to check that I still qualified. Thankfully, when the time came, I had a lovely nurse who just wanted to hear about my experience and how it affected my life. She told me that I would probably continue to get ESA, which I do.
My advice is to make use of charities like Blood Cancer UK, Macmillan Cancer Support and Citizens Advice, because you never know what help you might find.
Janssen-Cilag Ltd has supported Blood Cancer UK with funding for the production of this web page and others within the 'Living well' section. It had no influence over the content.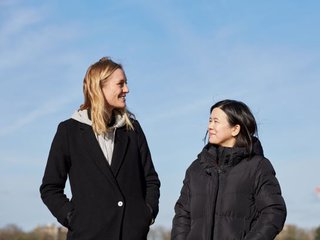 Share your story about living well
Your experience can help others with blood cancer
Tell us your story