Clinical Trials Information Hub
Common myths about clinical trials
Clinical trials are a type of medical research involving people. It's through this process that new drugs and treatments are developed. This type of research helps us learn which treatments are safe and most effective. It's not uncommon to have misconceptions around what clinical trials are and what taking part in one may look like. Here are some common myths you may have heard.
Myth: Clinical trials are only for patients who have exhausted standard treatment options.
Myth busted:
Not true! There are trials in development for many stages of cancer. It's important for you to know that you have the right to participate in a clinical trial at any point, from a new diagnosis through to advanced disease.
Myth: If I take part in a trial, I'll just be given a sugar pill.
Myth busted:
Placebos, or what some people think of as a sugar pill, may be used when testing a new drug if there's no known effective treatment but are rarely given in cancer clinical trials.
Standard-of-care treatments have already proven to be highly effective, and these options would never be withheld. When a placebo is used in cancer trials, the person will also receive the standard treatment for their specific cancer, and you're always informed before taking part in the trial.
Myth: If I take part in a trial, I'll just be a guinea pig.
Myth busted:
Clinical trials could have benefits in the management of your blood cancer, and all patients are closely monitored throughout.
'Informed consent' takes place before joining a trial, where you're educated on the risks, benefits and alternative treatment options. It's important to know that at any point, you have the right to withdraw your consent and leave the clinical trial without your care being affected.
Myth: My doctor didn't mention or offer a clinical trial so that must mean it's not an option for me.
Myth busted:
If a clinical trial isn't discussed it doesn't mean that you're not eligible. Ask your treating doctor about clinical trials or reach out to our Clinical Trials Support Service for more information.
Myth: I have other medical conditions so that will mean I can't go onto a clinical trial.
Myth busted:
It's true that clinical trials have strict entry criteria or eligibility requirements. This is to ensure that you're fit enough to receive these novel treatments or new combinations of drugs. But it's important to know that each trial differs so there may be options out there for you.
Myth: Clinical trials aren't really that important.
Myth busted:
Clinical trials are of the utmost importance. The more we learn about new drugs, the better chance we have to beat blood cancer in the future. Every drug today has been developed in the same process to deliver better, safer and more effective treatments for all.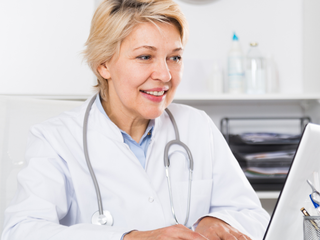 Contact our Clinical Trials Support Service
Get personalised support to understand which clinical trials are available - whether you're a patient, carer or healthcare professional.
Clinical Trials Support Service