Myeloma causes
We don't fully understand what causes myeloma, but we know that there are some things that make it more likely to develop myeloma. These are called risk factors.
The main risk factors for myeloma are:
Age
The chance of developing myeloma rises as you get older. Over nine in ten (90%) of people diagnosed with myeloma are over 50. Myeloma doesn't affect children.
Sex
Men are more likely than women to develop myeloma – we don't know why. In the UK, on average, seven out of every ten people with myeloma (70%) will be men.
Family history
If you have a close relative (such as a parent or sibling) with myeloma, you are more likely to develop myeloma than someone who doesn't have a family history of myeloma. However, myeloma is a rare disease and the risk for everyone is still low.
Ethnicity
People of African-Caribbean origin are more likely to get myeloma than white people. White people are more likely to get it than people from an Asian background. We don't yet know why.
MGUS
People with a condition called monoclonal gammopathy of undetermined significance, or MGUS (pronounced em-gus) have a higher risk of developing myeloma – around one in a hundred people with MGUS (1%) go on to develop myeloma each year.
We have more information about MGUS.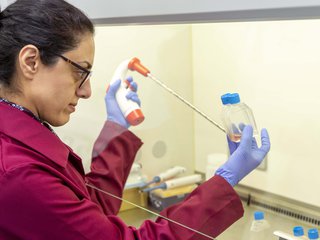 Our research impact on myeloma
Together, we're helping to pioneer new treatments for myeloma and improve existing ones.
Find out more
Where next?