Myeloma types
There are different types of myeloma which can be identified by diagnostic tests. The type of myeloma you have depends on the type of paraprotein and light chains in your blood.
Myeloma cells make only one type of paraprotein, and this varies from person to person. There are five types of paraprotein: G, A, D, E and M. IgG (immunoglobulin G) is the most common type, IgA less common. The others are very rare.
There are two types of light chains: kappa and lambda.
Based on this, you may be told that you have, for instance, IgG kappa myeloma.
After genetic tests, you may also be told that you have a particular genetic subtype of myeloma. This information gives doctors a better idea of how the myeloma might progress (your prognosis). In future, we hope there will be targeted treatments for different genetic subtypes of myeloma.
Read What is myeloma? to find out more about paraprotein and light chains.
If you have light chain myeloma
If you have light chain myeloma, the myeloma cells don't produce paraprotein, just smaller proteins called light chains. So you may be told that you have, for example, lambda light chain myeloma.
If you have non-secretory myeloma
Non-secretory myeloma produces little or no paraprotein or light chains. So discussions with your doctor will focus on your scan results.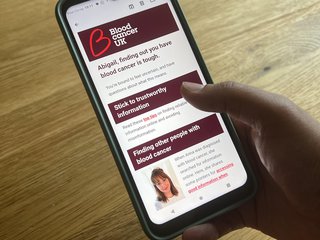 Get a weekly support email from us
We'll send you clear and simple information, practical tips, and advice from other people with blood cancer, to help during the first few weeks and months after diagnosis.
Sign up for blood cancer support by email
Where next?