Turning leukaemia on its head
Despite the harsh side effects of Yvonne's treatment for leukaemia, she was determined to keep as active as she could. By adapting her approach to fitness, Yvonne was able to come back even stronger.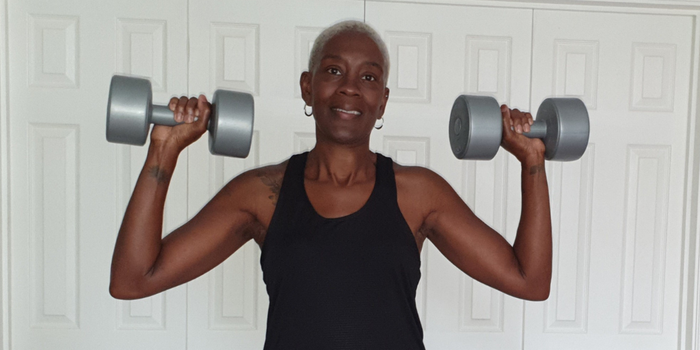 I was diagnosed with acute myeloid leukaemia just two months after my 50th birthday.
I was generally fit, and bar the odd niggles and recurring sinus infection, I was healthy. Having said that, a week or so before my diagnosis, I found it harder to walk up the three flights of stairs to my office. My leukaemia was discovered incidentally following a routine pre-op assessment for a minor sinus surgery.
Thank God for that blood test!
Physical fitness has always been an integral part of my life. Throughout my treatment, I tried to keep as active as possible, pushing through my diminishing strength and side effects.
All was going well until I developed a serious infection that rendered me bed bound for a week. This made it too risky for me to complete my final consolidation round of chemo, and my treatment stopped. I was relieved, as I wanted to focus on getting back to some sort of normality.
Clawing my way back to my fit and strong self
Given my track record of bouncing back from injury, how hard could this be? However, unlike before, I now had to contend with some new problems, like weakened muscles. Whose body was this?
The acute realisation that I could no longer rely on my body to do what I wanted it to, was heart-breaking. How long was this going to last? Would I ever regain my fitness?
I learned to be patient with myself, and soon realised that I shouldn't compare my body and abilities to what I was previously able to do.
I had to accept and meet myself where I currently was, work with what I had, and set myself small goals.
The challenge
My stamina and strength were improving, then lockdown happened, and everything went to pot. But I continued to work out at home. I also decided to take on the 2.6 challenge by doing a headstand for 26 seconds.
Back in the day, I was part of a female street dance group, and a headstand was my signature move. However, there was never any guarantee that I'd get off the ground, let alone stay up for a few seconds. Thankfully, the crowd would take our act in the light-hearted spirit that it was intended.
To my disappointment and frustration, I couldn't even get my feet off the floor. I had no core or arm strength. So, I had to knock that idea on the head (excuse the pun).
Getting a grip of things
My good intentions to keep fit started to unravel. Being more sedentary, constantly snacking and not having regular exercise was taking its toll on my body (and my emotional wellbeing). I had to get a grip of things and do something before I spiralled into a dark and unhealthy place.
My partner and I signed up to a 6-week fitness programme, in which we had to do at least three workouts a week. As these sessions were live, it meant that I could be seen by the instructors.
This was just what I needed – accountability, encouragement and motivation.
Within just a month, I could feel myself getting stronger and fitter.
Give it another go!
After speaking to my daughter about my legendary move, the headstand challenge was re-ignited.
Now, with my fitter and stronger body, I thought I'd give it another go… I was able to get up, albeit in a tucked position. I tried again the following week, and shakily, was able to straighten my legs for a couple of seconds.
Bring on the challenge!
I pledged that on the two-year anniversary of my diagnosis, I would do a 26 second headstand to raise money for two charities close to my heart. I smashed both the time and fundraising target!
I felt incredibly fulfilled and proud of myself. Not just for my physical feat, but for helping others as well. In a strange and paradoxical way, leukaemia has been both the worst and one of the best things of my life.
There's nothing like a brush of a serious illness to help you to re-evaluate and re-frame your life.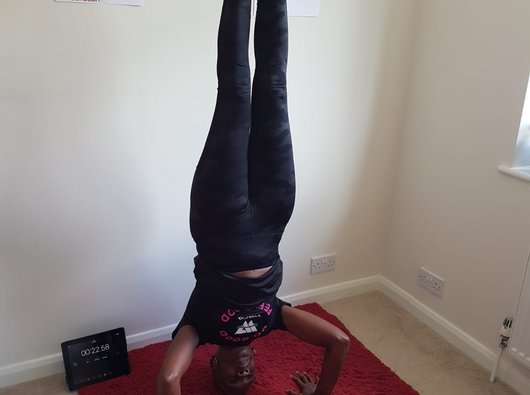 Live life as fully as possible
A diagnosis motivates you to take action and live life as fully as possible. I feel blessed to have come through the other side of cancer. Now, I can use my experiences to help, inspire and motivate others.
I volunteer with the African Caribbean Leukaemia Trust, and hope to 'pay forward' the benefits of message therapy by volunteering at hospitals and cancer support centres. I have also used my story to do some fantastic fundraising, and I sit on the Research Strategy Patient Panel.
As the saying goes, 'the comeback is stronger than the setback,' and that is how I intend to live my life.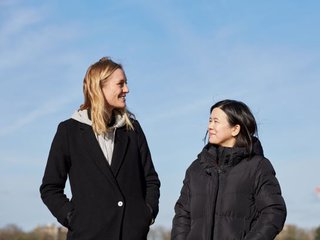 Share your story about living well
Your experience can help others with blood cancer
Tell us your story